We all know that fashion trends are changing and new items are coming, so it is necessary to keep yourself updated. Every year you might have seen that there are lots of new trends that are being introduced in related to wedding dresses. The designers are taking keen interest in designing wide range of wedding dresses which are quite exquisite and beautiful. If the dress of a bride is being selected then it is necessary to get the perfect bridesmaid outfits as well.
Look Classy
As you have to look classy and up-to-date on this special event as you have to be with the bride so you must also gloom. In this way, it is necessary to give an awesome entry along with the bride so that you would also receive the compliments from others. It is necessary to select perfect dresses as a bridesmaid and make the nice combination so that you won't look a mismatch in an event.
Make The Right Choices
Are you confused that what you are going to wear on your friend's wedding as you will be along the bride so everything must be perfect. No doubt, you must have planned that you are going to enjoy the event in a best possible way and make it a memorable one but what if you are not looking awesome or you are feeling uncomfortable in your dress. You may regret afterwards that if you make good choices when you were buying the dress then you won't regret afterwards. Maybe most bridesmaids are making such mistakes or spending time in selecting the bride's dress and there is no time left for their shopping. As a result, they grab whatever that is available and look uncomfortable on such important event.
How To Select The Perfect Bridesmaid Dresses
Are you one of those who run after new trends blindly and even though you feel uncomfortable in a certain outfit you would buy it so as to look trendy. But you need to think again that it is not necessary to keep you in an uncomfortable situation or wear something funky. Wholesale bridesmaid gowns are exquisite and trendy as well. There are some trends which remain ever-green and you must know your body shape and then choose the perfect bridesmaid dress.
Know Your Choices
You must know your choices before buying bridesmaid dresses, whether it is the short frocks that you like or your choice is deep necks; go for the one which suits you more.
Try Before Buying
Never forget to try an outfit before buying one so that you may have a perfect look. If there is an alteration that is needed then make it perfect on your body and have fun in a comfortable way.
Top 8 Bridesmaid Dresses For Spring Wedding
If still you are not clear that what is best for you to wear if you are a bridesmaid on your friend's wedding ceremony. In order to look great you must choose something which is nice but even then you don't get it then here is the list of top 8 wholesale bridesmaid dresses which are quite awesome. Let's have a look.
Cute Round Neck Hollow Back Dress
If you want an elegant look then you need to buy this beautiful dress which is so unique. The hollow back will give you a sexy look as well and the sleeveless style will give you an awesome look.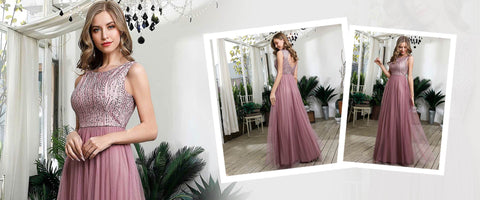 Sexy V-neck Floor Length Mermaid Party Dress
If you want to show your curves then you must try this dress as it will give you a sexy look. The sequin style on the neck and the sleeveless style will be perfect in giving you a different look.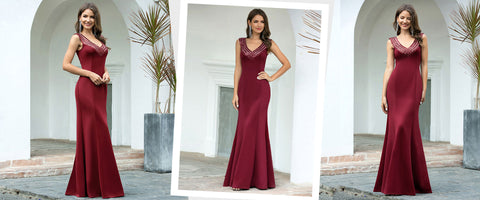 Cute One Shoulder Ruche Bust Dress
Looking for something which is quite different but stylish as well, then choose this dress. The ruche style on the bust area and the one shoulder strap gives you a nice look.
Double Tires Asymmetrical A-line Dress
The tire style in fashion is never getting out of fashion as it will give you a playful look. The A-line style is the one in which you never feel uncomfortable. It will be best choice if you have a pear shape.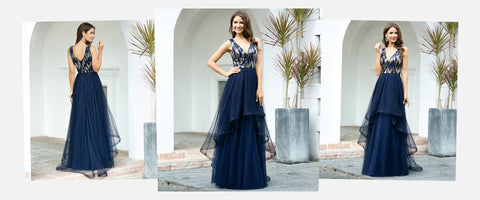 Romantic Asymmetrical A-line Maxi
If you want to look awesome then you must try this out as it is nicely styled. The high-low style is quite nice which will give you a sexy look. You can wear high heels with it to have a perfect look.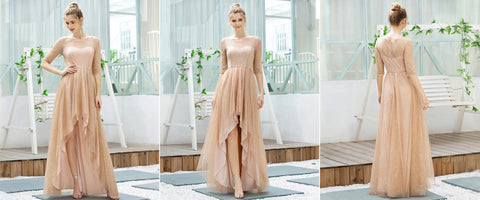 Sparkly Short Deep V Neck Cocktail Dress
Do you want to have a sparkly look in an event then this dress is perfect for you. The dark green color is quite nice in an evening event and the deep V neckline and the short length gives you an awesome look.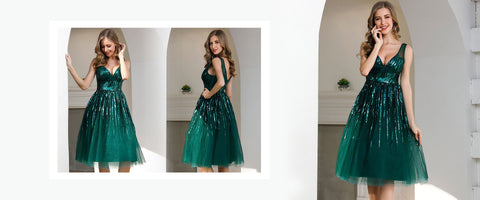 Elegant V Neck Short Sleeves A-line Tulle Dress
If you don't like sleeveless style hen go for this dress which is having short sleeves and the A-line style will give you a great look. The sleeves are designed in a ruffle style which gives you a cool look.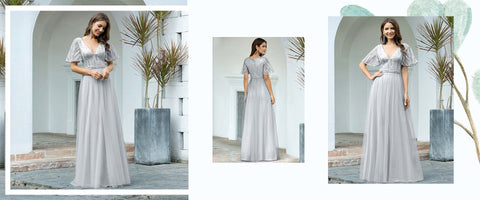 Gorgeous O Neck A-line Lace Dress
If you want to hide your upper area and you don't want to wear deep V necks then you must wear this dress. The O neck is very nice and the A-line style is quite nice. If you try it in white color then you will have a great look.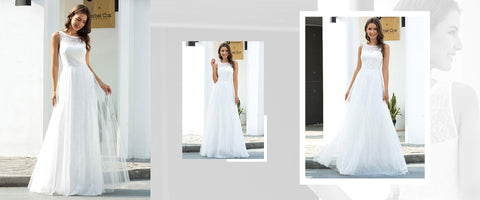 To sum up, the 8 bridesmaid dresses for spring wedding are so nice and wholesale bridesmaid dresses are so classic in style. You can have a great look as there are many styles and you can choose in between them. Make a good color scheme for example if the bride is wearing light color then the bridesmaid can wear dark or deep V neck.