As the spring season is coming and the colors are spreading all around in the forms of flowers and the lush grass. The sky changes its color and the rainbow may appear after rain so as to show the world how colorful the world can be. We may feel quite satisfied with the warm and fragrant air as it may bring our soul into peace. The dew drops in the morning hit the petals of the flowers and make them fresh.
We also feel quite relax in such a mesmerizing season as it is abundant of peace and ease. After seeing the cold and dull weather the colors on the earth seems a dreamy world. We feel calm in colorful world and it seems as if the world has washed its face with different colors.
Renew Your Soul
In order to satisfy our urge we want to see beautiful colors in our outfits as well. As it will make us to be alive and renew our souls as well. If we are going on a special occasion than it is the best time to wear our favorite colored dresses. As the way the dresses are designed and the color you may choose will depict your personality.
Color Your Personality
If we talk about colors in the dresses then in winter we use black and dark toned dresses but in summer we have wide range of dresses. There are navy blue, burgundy, pin or dark green etc. We can throw some colors in a party with our colorful outfits and make our personality a vibrant as well.
Colors Speak The Language
Well we cannot choose the colors of our dresses senselessly and look like a rainbow in an event. We need to make sensible choices to represent ourselves in a perfect way. As not only the outfit but also the color has greater impact on our personality. Colors speak a language which shows how we are representing ourselves.
Our Favorite 2020prom Dresses Color Palettes
Prom dresses are considered as one of the favorite outfits in the evening. As these dresses are designed in a way which makes you look awesome. You can get stunning outfits from our website https://www.e4wholesale.com/.  The wholesale evening gowns are gorgeous and quite high in quality . You can get your favorite prom dresses and mesmerize everyone in a party.
Well, not every prom dress may suit you and not every color will be perfect for you. So in order to get something special you must consider few things before buying prom dress.
Here is the list of some color pallets from wholesalers of the prom dresses 2020. It will help you to choose your dress in a perfect way. Favorite colors of prom dresses 2020 are burgundy, navy blue, grey, pink, and dark green.
V-neck Bodycon Shiny Sequin Dress In Dark Green Color
If you want to look fabulous in party then the sequin V-neckline dress is perfect for you. The gold stamping fabric is perfect for dancing as it will give you a shimmery look.
The empire waist gives your body a perfect shape and the flutter sleeves give you a different look. The dark green color is quite perfect for evening party or any formal event. You can glitter nicely in this color.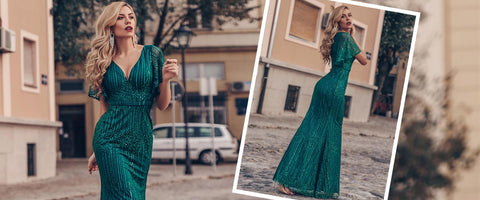 Deep V-neck Maxi Long In Navy Blue Color
If you want to look awesome in a party then this figure-flattering silhouette is quite perfect for formal occasions. The fabric used in it is pure chiffon which flows quite well and the ruche style in the bust area flatters your figure in a perfect way.
The navy blue color looks quite awesome on this prom dress and gives you a classic way to represent yourself. It is best for wedding ceremonies or any formal occasions.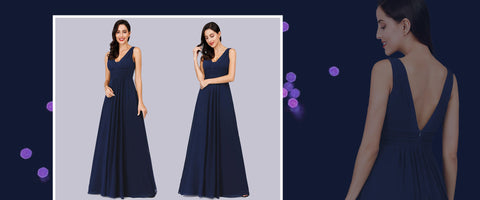 Classic Fishtail Sequin Dress In Burgundy Color
Looking for something which gives you a romantic look? Then you must go for this dress which is quite perfect for formal evening events. The shimmery leaves on the skirt gives you a glittery look as well.
The shimmery leaves will look awesome on burgundy color and you will shine in a party. You will look elegant in it.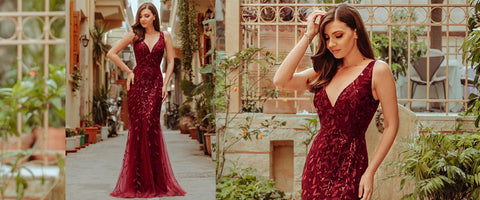 V Neck Sleeveless Long Dress In Grey Color
If you want a decent look in a special event then you must go for this dress. The appliqué work on it gives this dress a delicate look as well.
The grey color is one of the favorite pastel colors which give you a sober look.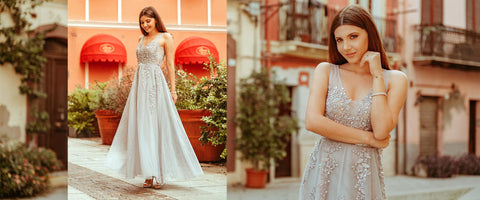 Double V-neck Elegant Maxi Long In Pink Color
This simple styled dress is perfect to give you an awesome way to shine yourself with shimmery accessory. The fabric used in it is solid chiffon which gives you a blank canvas look.
The pink color gives you a girlish look and you will feel awesome in wearing it.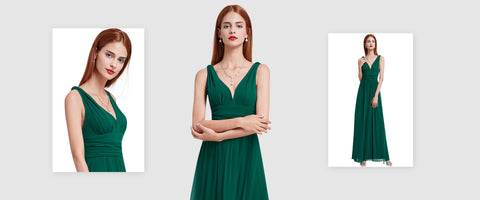 Conclusion
To sum up, the wholesale prom dresses are trendy and the price is quite reasonable as well. There are lots of trendy colors which will be quite perfect for your evening occasions. So, grab one for you and make your event a perfect one where you won't look awkward by choosing wrong color of your outfit.