In a perfect world, you would never say no to a wedding invite but unfortunately, due to the global pandemic we might just have to do so now. It's harrowing to decline your best friend's wedding invite or maybe even one from a close relative, where you might have shopped at www.e4wholesale.com for wholesale gold bridesmaid dresses together for this special day.
So how do you go about it, without actually hurting sentiments and without putting yourself in an awkward situation? Let us find an answer to this typical wedding etiquette conundrum once and for all!
Take A Couple Of Days To Give It A Thought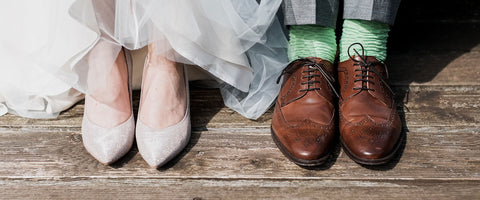 You must give yourself a chance to explore your options and give the invite a little thought. The couple will appreciate this as well. At the same time be sure not to leave it until the last minute. This will only disappoint the couple and leave them inconvenienced! You will need to churn up some manners along with empathy to politely back out of this sticky situation. You could use phrases like:
"Thank you for remembering me on your special day! Sadly, I will be unable to make it, but thank you all the same for inviting me!"
"Oh, that sure does sound lovely, unfortunately I won't be able to make it. But you guys have a fantastic time!"
Give Your Relationship With The Couple A Thought
If you are close to the couple, then you might want to break this news via a phone call or over dinner. If not then an RSVP is sufficient. A prompt RSVP implies that the couple should have ample time to send the invite to someone else that they would want to celebrate the day with. Be sure and act as per the deadline specified on the invitation. To show your enthusiasm for their special day, you must check with them throughout the wedding planning process to express your support and concern.
Be Honest
If you are close to the couple then be honest. Let them know that you are taking your precautions due to the COVID-19 situation or whatever the actual situation is. You could even let them know that you were so looking forward to seeing the entire clan in the wholesale purple bridesmaid dresses that were selected but alas, there are hidden safety risks in attending the wedding. They will appreciate your honesty and totally concur with your thoughts.
Figure Out A Way To Make It Special For The Couple
It would be a good idea to make your presence felt even when you are unable to make it for the special occasion. On the morning of the wedding, you could get a bottle of Champagne presented to the couple. Depending on your relationship with the couple, you could also record a video message wearing the formal evening gowns you bought from dress wholesale that you might have shopped for together during better times. Penning down a few words of support for the couple that could be read out during the speeches is also a good thought. A thoughtful gift like this sure does go a long way!
Celebrate With The Couple At A Later Date
Make time for an evening out together wither before or after the wedding and show the couple how much they mean to you. This way you can avoid the crowd, considering the social distancing rules during the pandemic and still express your special wishes to them. In this manner you will definitely make the couple feel special and at the same time strengthen your bond too.
How You Say It Matters The Most
Irrespective of what you say, your tone matters the most. Just be your warm self, but reasonably neutral and remember to keep it short. You do not require being over apologetic and pleading for forgiveness or bring your boring personal reasons to the fore. Simply act normal and put forth your concern. Do not over-explain yourself as there is no need to get into an overly complicated justification of all the remorse you feel and how crappy a friend you are for missing out. This will just make it awkward for the both of you, making your friend trying to convince you to come and you trying to back out of it in any way possible. Just keep it short and precise.
Lastly, be sure to apologise regarding your absence and yet wish them all the love in the world for a fresh start to their journey together. Also remember to thank them for wanting to celebrate their big day with you. Keep in mind that declining an invitation is perfectly normal if you are not comfortable in attending the event. Hope these pointers will help you courteously turn down an invitation for a wedding with negligible awkwardness and practically zero guilt.