Are you excited about your close friend's marriage? Then you must have planned a lot to enjoy it in the fuller way so as to make it a memorable event. Whether it is a surprise dance performance you are planning or a speech you are going to deliver for your friend, you want them to be perfect right! So you have practiced them a lot and you want that everything must be just perfect so that you won't face any embarrassment. Well, the nice moves in dance or delivering speech without hesitation will definitely boost your confidence level. But when it comes in dressing you may have to think again that what you are going to wear.
As all the eyes in the ceremony will be on you while performing, it means there is no room for wearing a stereotype or old-fashioned dress. You need to look charming and stylish in such a special event so that you won't regret afterwards of not wearing an appropriate outfit. In this regard it is necessary to give keen look to what suits you well and which dresses are trendy so that you may show your dexterity in a proper way. The wholesalers provide fashion dresses which are quite awesome and they will suit you quite well. Here are few tips you can follow to look charming in a party.
What To Wear?
You might have filled your wardrobe with lots of gowns but when it comes to your performance on your friend's wedding all you need to do is to look gorgeous. Don't get panic and throw your money lavishly in order to follow the trends blindly and get an uncomfortable dress. It is necessary though to choose an appropriate dress which compliments to your personality in a perfect way.
Know Your Body's Shape
Instead of grabbing anything from the market and get the wrong outfit it is necessary to know your body type quite well. For example if you have a pear shaped body then it is better to go for A-line dresses as it will give you an appropriate look. Or if you have broad shoulders it is better to wear V-neck with long sleeves as it will balance the look. So, you should go for the right dress in which you feel comfortable and which suits you quite well.
Maxi Skirts Look Awesome
If you want to look gorgeous on this special event it is quite necessary to wear an awesome dress. Even though the miniskirts are beautiful but the maxi skirts have their own place and on this event it will suit you quite much.
Appropriate Shoes
Take into account in which type of shoes you will move easily, whether it is the long heels or the flat shoes you can carry easily. Go for the right one and match with the dress appropriately for example if you are wearing a dark colored dress then wear the same colored shoes however if you are wearing a pastel colored dress you can go for bold colored shoes as well so as to have a bold look.
Don't Forget Your Bag
Well, sometimes when we are getting ready for formal event we may feel that the bag is not looking good as it is not going with the dress. However, if you go without your bag where you are going to put your necessary items like your phone, or lip balm etc. So, you should have a good collection of bags, handbags and clutches. It will give you a complete look.
How To Look Charming In An Evening Event
In these days people have a lot of information about the new styles and trends. So, if you are giving a special performance don't think that whatever you are going to wear may have greater impact on others. Well, it is not the case! You should know in detail which styles are trendy and in which color you look awesome. In this way you won't look funky and misfit which will ruin your overall image as well. The wholesale fashion dresses offer a wide range of pageant dresses which are appropriate for formal occasions. You will love the way they are stitched and different cuts make them quite unique as well.
1. Romantic O Neck Tulle Evening Dress
If you want to look decent in an event then you must try this dress. It is very beautifully styled with round neckline and the long sleeves make it quite different. The bodice is styled in sweetheart shape which looks so nice and the concealed zipper back is there to have a proper fitting. The fabric used in it is polyester which is of a high quality and gives you a classic look.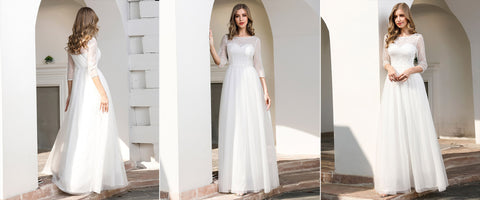 2. Sexy Backless Sparkly Evening Dress
Looking for something in which you represent yourself as bold and sexy then go for this dress. It is featured with V-neckline in which you can show your upper body and an asymmetric skirt is designed in a way which is high from the front and long from the bottom. The backless bodice gives you the best way to show your curves in a better way.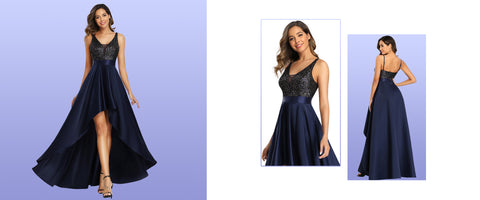 3. Elegant Floor Length Ruche Chiffon Evening Dress
If you want to look elegant in an evening event then you must have this dress. It is styled with grace and the square neckline looks quite classic in it. There are no sleeves attached to it which gives you the opportunity to show your sleek arms. The bodice is decorated with ruche style which looks so awesome and the waistline is defined with the Pattie.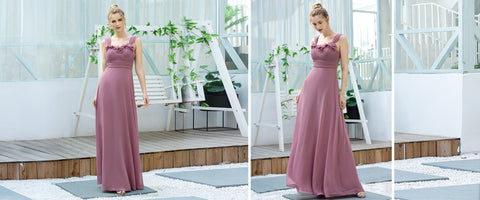 4. Ruffle Sleeves Mermaid Lace Long Evening Dress
Do you want something in which you can show your figure quite well?  Then you must try this dress which looks quite awesome with ruffle sleeves and the deep V-neckline looks quite sexy as well. The shiny fabric gives you a sparkling look and you dazzle in the party.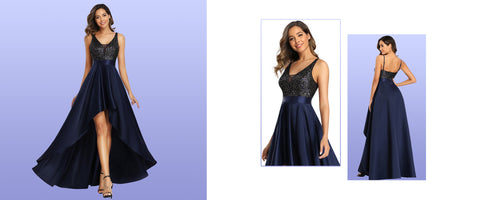 Conclusion
In a nut shell you can look quite charming in an evening event if you have these things in your mind. The wholesalers offer flower girl dresses as well in order to make your event a memorable one. You will find a wide range of variety in our stores which will help you to have a perfect look so, grab a piece for you and instead of wearing something odd go for the right dress and enjoy in the fuller way.