Shopping for your bridesmaids is an indispensable part of your wedding planning. You would definitely want your bridesmaids to be showered with plenty of appreciation as well. We can understand that you must be all excited about your wedding dress but your tribers would also be equally enthusiastic about looking their best on your most memorable day.
Though deciding your bridesmaid's dresses might seem like a challenge at first, but it could just turn out to be fun with the right planning and preparation. Bridesmaid's dress trends differ from season to season; however, certain classic styles always remain in the forefront.
Here are a few fashion tips for 2021 that will make sure that you are on track with the wedding fashion trend.
1.Pastel Colored Dresses are an All-Time Favorite
Best bridesmaid dresses ever have to be selected carefully so as to match up to the charismatic look of the bride. A tried and tested classic bridesmaids dress is to go in for floor-length gowns in pastel colors. You could select colors from nudes, blush pinks, lavenders, and the like to exude elegance and grace to your bridal brigade. Pastel in itself is such a feminine shade that the wearer spontaneously brings about an air of that subtle charm that is required when you have to dress up your best friends.
2.Add Ruffles to the Dresses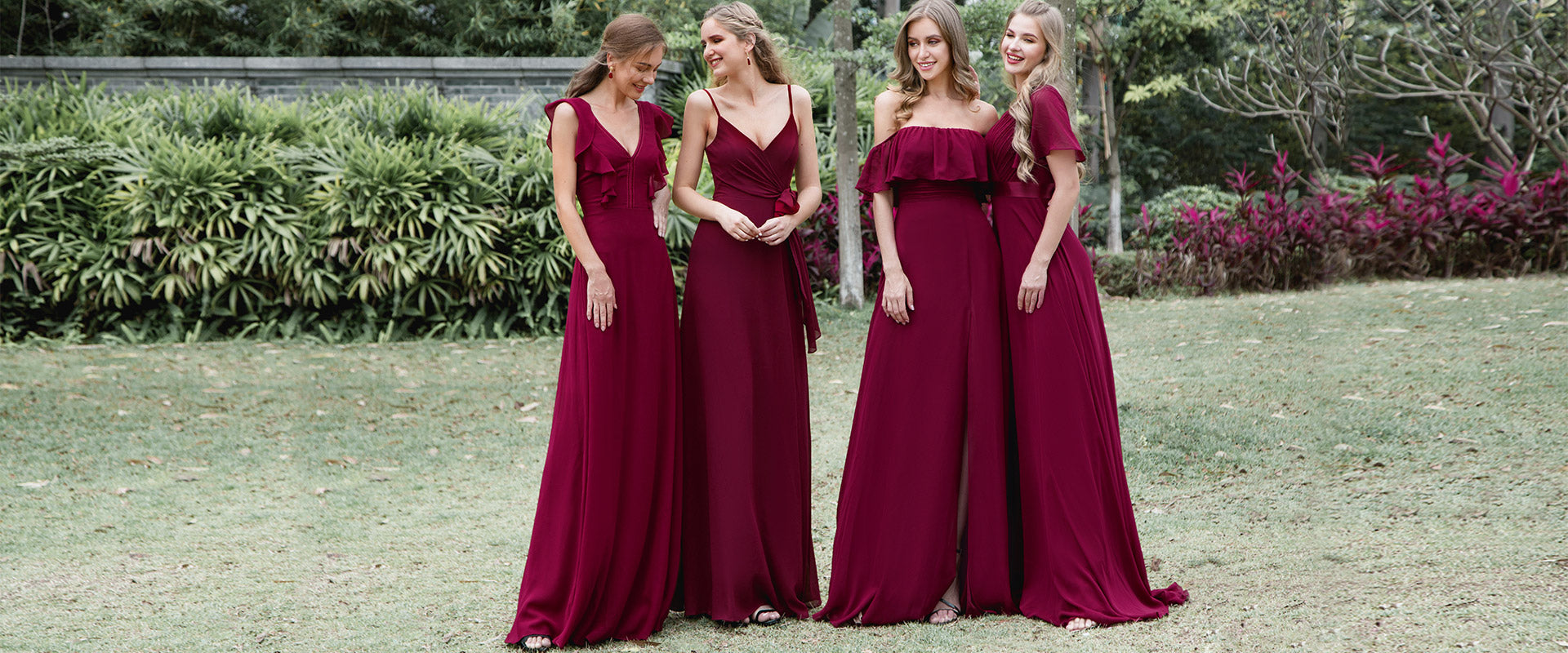 The mesmerizing dress of the bride has to be complemented with equally charming dresses for the bride's squad. Ruffles are so in vogue this season that incorporating them in your bridesmaid's attire is a must. You could have ruffles on the sleeves or even add them as frills or layers on the skirt of the dresses. An off-shoulder dress with ruffles on the bodice also adds the required panache that a bride would love to have for her bridesmaids on her wedding day. Lightweight ruffles and tiers add a touch of glamor and look ultra-feminine.
3.The Mismatch Trend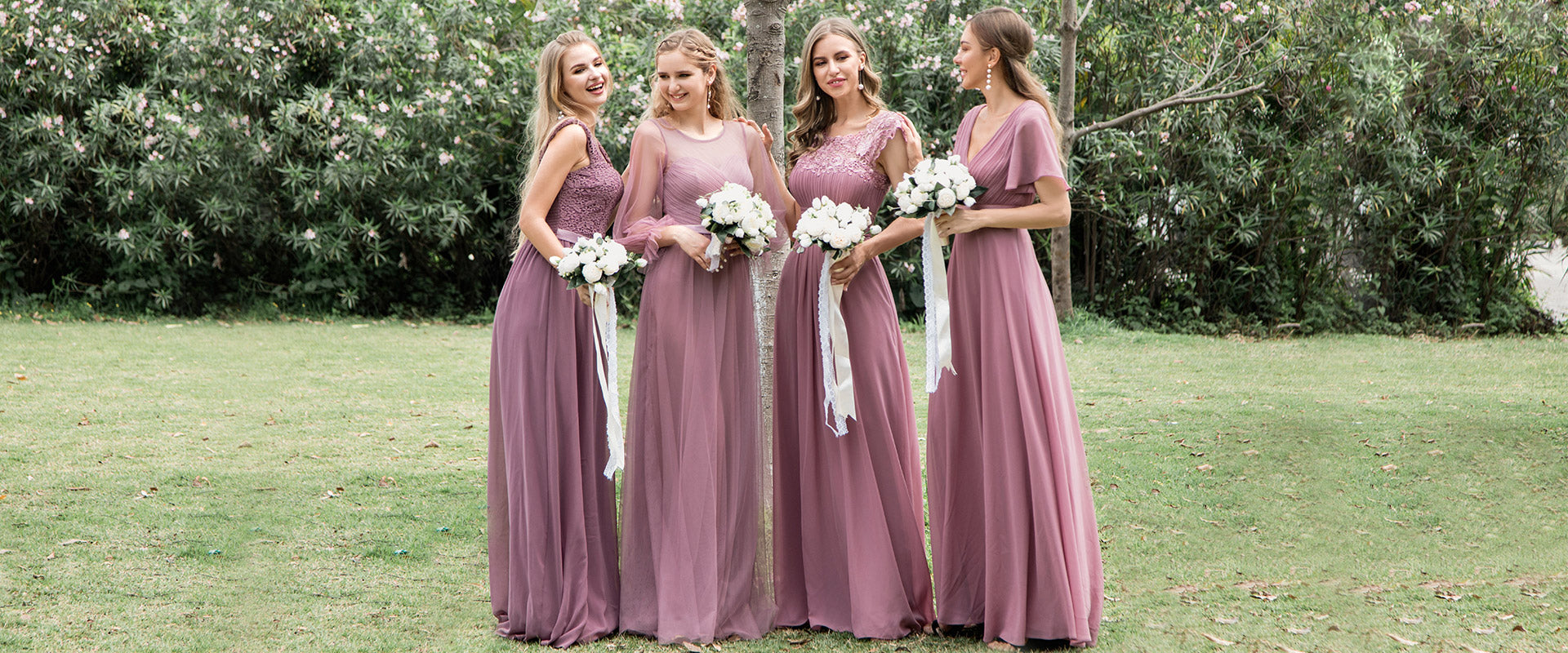 The mismatch trend is going strong this season as well. Brides are happy to let the bridesmaid's dresses emphasize the personalities of their best friends. Brides are going in for selecting same color dresses in different styles or even going in for a range of varied colors in either the same style of dress or different styles too. This means that we can see a diverse assortment of lengths, colors, styles, and print bridesmaid dresses in the bride's entourage. The only essential condition is that the colors of the dress should balance the color palette of your wedding.
4.Rich, Deep Color Dresses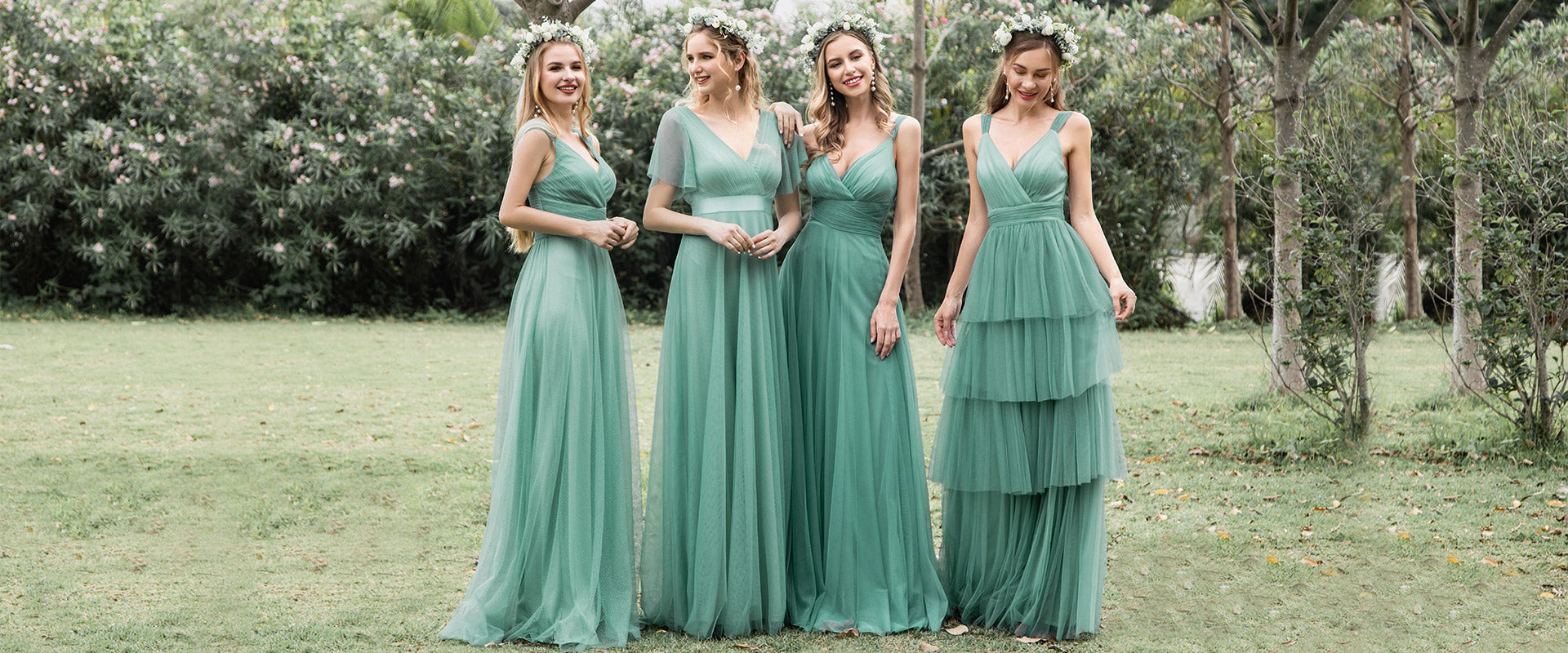 Brides nowadays are deviating from the norm of having only pastel colors for their bridesmaids and are opting for bolder hues of burgundy, navy blue, purple, and grey instead. Vibrant colors not only bring in energy to the ceremony but also are warm and rich in their overall appearance. Usually, such deep colors were a choice of the brides only during the winter months, but lately, since brides are more experimental with their approach, such deep colors are a favorite all year long. These affordable bridesmaid dresses by color is the most sought-after trend this season.
5.Lace and Sheer Never Go Out of Style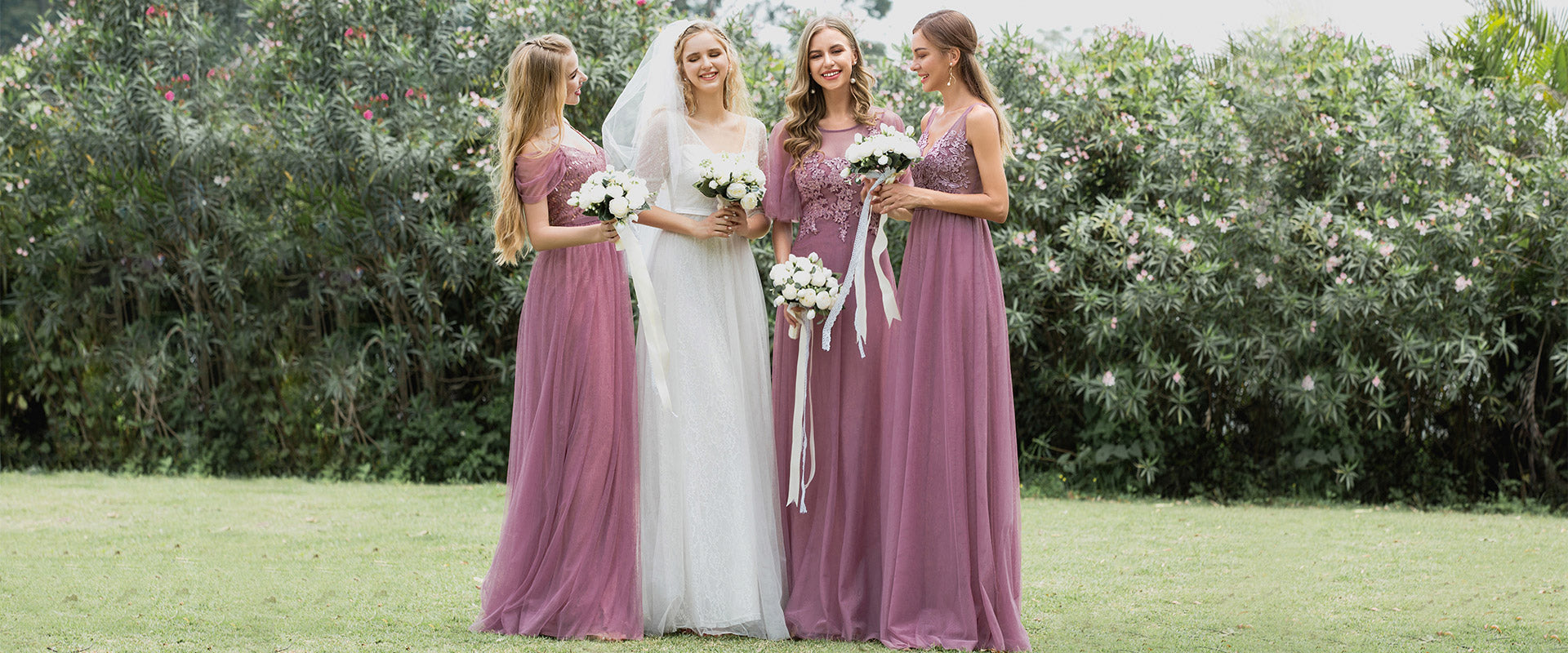 Glisten up a minimalist bridesmaid's dress by adding a hint of lace or sheer detailing into it. Such detailing never goes out of style and adds the much-required femininity to the wearer, thereby taking a simple dress to another level of elegance and panache. Lace and sheer are super versatile and can be incorporated in a dress either in the bodice or on the sleeves. Some even go overboard and have their entire dress in lace. The sophistication that exudes from the dress in such a fabric makes it a classic by itself. Sweetheart neckline bridesmaid dresses in lace look adorable.
To add to the tips mentioned earlier, here are a few handy tricks that are bound to make heads turn if incorporated in your dress for the ceremony.
Ladies are also going in for texture in their fabrics along with metallics so as to add dimension and depth to their overall appeal.
An off-shoulder dress instantly adds a feminine feel.
An oversized bow or a dramatic cape sure will make you look drop-dead gorgeous.
Keeping in mind all the above tips when selecting an ideal bridesmaid's dress, go in for silhouettes that will flatter the best features of your friends. Highlight their individual personality by selecting good quality fabrics, printed bridesmaid dresses, and style the dresses with embellishments to add a bit of glamor into them.
So, all you beautiful brides and bridesmaids out there, who are excitedly waiting for the D-day to arrive impatiently, remember to combine sophistication with immaculate detailing so that the dress will make you stand out of the crowd and will make an ultimate style statement.