Wearing a white wedding dress with a long full skirt is the norm that has been followed for ages. Over the years, the white wedding dress has become more extravagant, with brides preferring exquisite details like sequins, frills, longer trains, strapless designs, and the like.
We at e4wholesale.com bring to you our newly launched white wedding dress series as well as wedding bridesmaid dresses that all brides will soon be swooning over. During these Covid times, we thought of celebrating happiness and bringing about joy with our magnificent wedding wear. Our dresses are sure to bring in cheer to these gloomy times.
As we all know that the customization of traditional wedding dresses takes a long time, and in order to make it look exquisite, our skilled designers spend extra hours on its workmanship. Now with the spread of the pandemic, since we are taking all the precautions, it is taking us even longer to complete our dresses.
Each one of our white wedding dresses is breathtakingly gorgeous, with intricate detailing and uniqueness in design. We have incorporated our customers' needs in our designs and followed the latest trends in designing a brand-new series of white dresses.
All our wholesale wedding dresses online are currently in stock and can be shipped to our customers on a priority basis to meet their urgent needs.
Let's take a look at the magnificent collection that we have collated for you today:
1.Make a Spectacular Entry in a Lace and Tulle White Midi Dress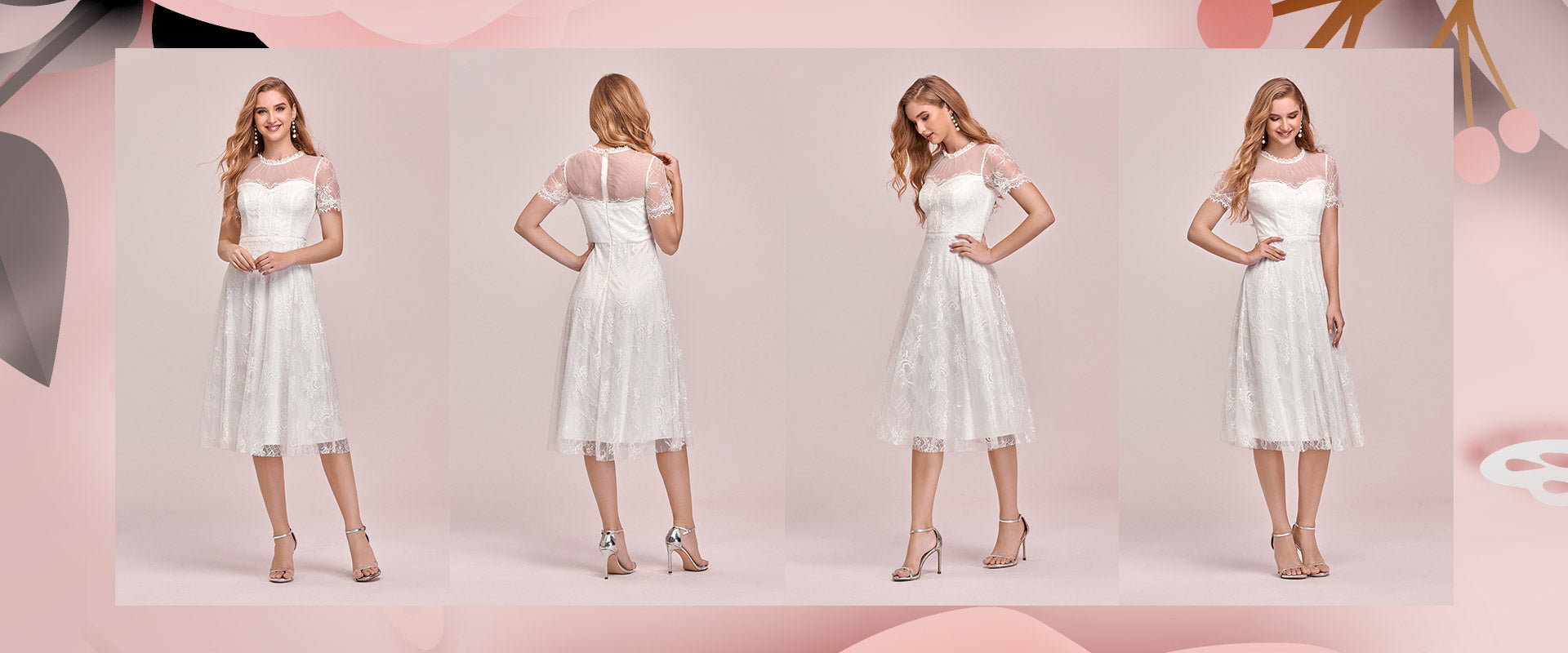 When you combine lace with a high neck tulle dress, the outcome is mind-blowing. The elegance of a white midi dress in lace is beyond compare. The dress screams summer and is ideal for a beach wedding where you do not need to worry about the sand getting into your dress. The see-through fabric on the upper part of the chest, back, and on the short sleeves give it a romantic charm. The A-line silhouette of the dress looks flattering on most body shapes. The best part about this dress is that you can re-wear it over the years to come since it has a fun and flirty vibe.
2.Look Ravishing in a Deep V Neckline Lace Wedding Dress
This dress is a trendsetter in itself. The deep V neckline and the short puffy sleeves set this dress a class apart. The top part of the dress is designed in a luxurious floral lace fabric while the lower part is in a flowy rich skirt that is awe-inspiring. Our range of plus size dresses for wedding are bound to complement almost all body types, including this one in particular because of its A-line structure. A bride in this dress is sure to exude confidence as well as elegance. The floor-length of the gown gives it an incredibly regal charm. Accessorize it with long earrings and stun everyone with your grandeur.
3.Incredibly Radiant Round Neck Tulle Wedding Dress with Long Sleeves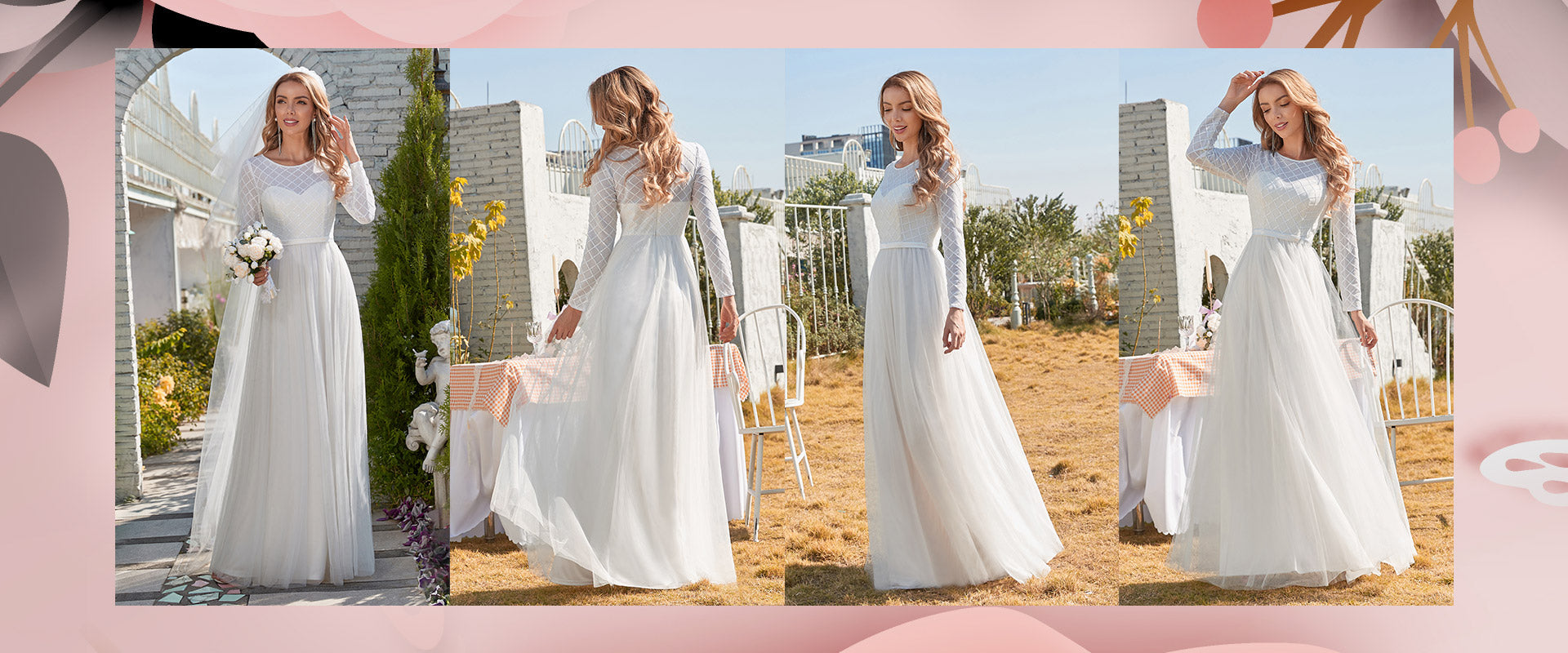 Like they say, simplicity has its own sophisticated appeal, this charismatic dress has that one of a kind radiance in it. The round neckline and full sleeves make it ideal for the cold winter weddings. The checkered design all over the top part and sleeves of the dress not only creates an appealing design element but also renders an added elegance to the overall attire. The A-line cut of the dress gives this dress a fairy-tale like captivating allure, and the dainty belt adds to the fascination. The fit and flare design of the dress accentuates the waistline, thereby creating an intriguing dress by itself.
4.Appear Mesmerizing in a Deep V-Neckline Satin Dress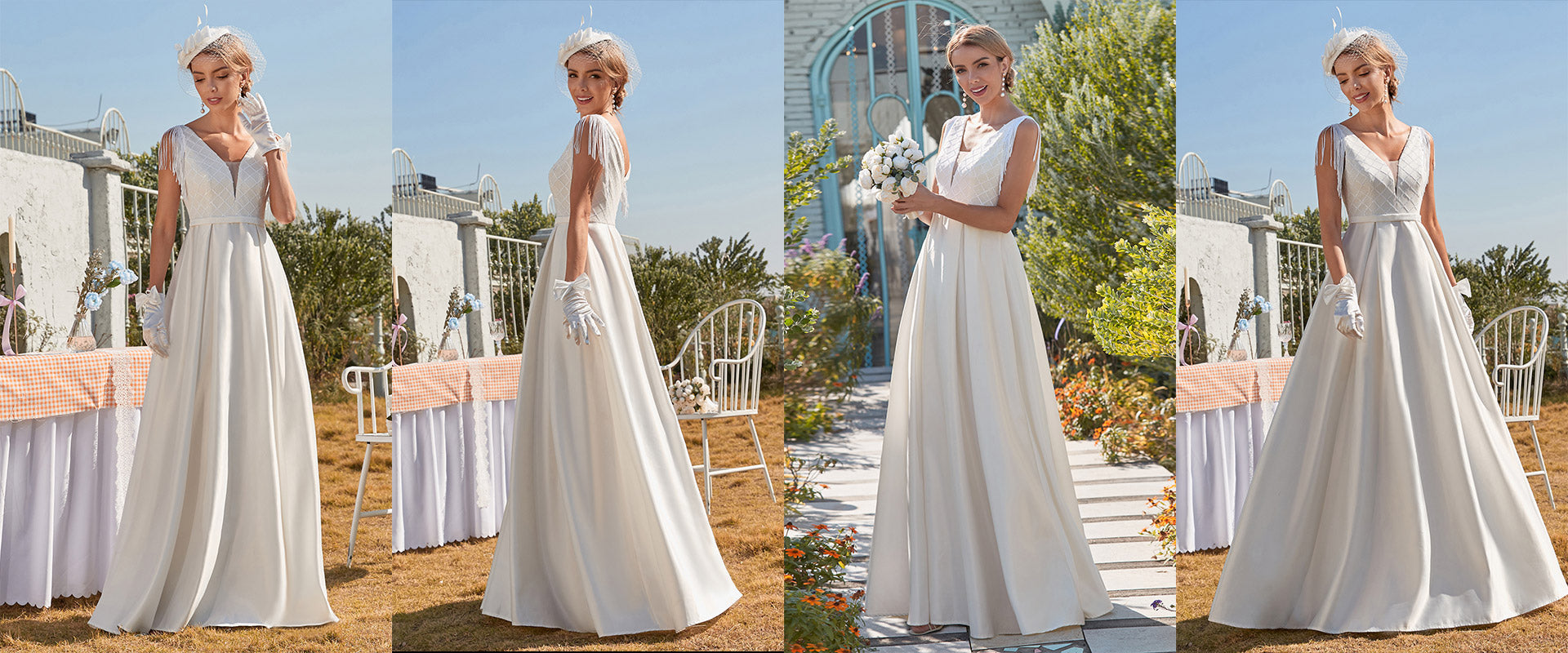 This dress is for those daring brides who wish to be set apart from the usual run of the mill brides. The tassels on the sleeves make this dress attractive to look at and yet gives it an exceptional facet. The plunging deep V neckline enhances the beauty of this dress and transforms it into another level of graceful charisma. The bodice has a chic check design all over it. The satin skirt emerges as another eye-catching element on the dress as it imparts a princess like fascination to it. Designed with a delicate belt at the waist, it not only helps in accentuating the waistline but also brings the whole outfit together.
I'm sure your search for where to buy wedding dresses wholesale ends here as our latest white wedding dress collection are spectacular and high on trend. Find the dress that you have been dreaming about, browsing through our website e4wholesale.com.
We have a vast variety of dresses ranging from the midi length style to the fabulous vintage ball gown. Our dresses are made to satisfy the tastes of various brides, right from the daring ones to the demure ones. Our comprehensive range of white wedding dress collection will leave you speechless as we have kept the latest trends in mind while conceiving the ideas.