Are you excited that your closest friend's wedding is coming? Then you must have planned that you will enjoy it in every possible way. Well, you have got the full right to make this event a memorable one. You might have helped your friend organizing the function in a perfect way and in selecting the dress as well. But when it comes in selecting your own dress you may think again that what you are going to wear.
You want an awesome entry along with your friend. So, you need to get something extraordinary which compliments to your special event. Instead of wearing something uncomfortable and loose in fitting which may give you a dull and boring look. Why not go for the outfit which enhances your figure and give you a stylish look.
In every year fashion trends are changing and so does the wedding trends. You need to follow the trends so as to not to look a stereotype and outdated. In this year 2020 there are lots of bridesmaid dresses which may give you a stylish look. The stunning wholesale evening gowns provide you a great number of bridesmaid dresses in an inexpensive price.
Things You Need To Consider Before Buying A Bridesmaid Dress
There are lots of things that you should consider before choosing a bridesmaid dress. You need to consider which shapes and cuts suits you which may flatter your body. As there is no one type which suits to all and you need to know your body type quite well that which dresses may suit you.
Color Scheme:
In order to get a mesmerizing appearance you need to give a lot of attention to the color scheme. What bride is wearing and the color you are wearing may suit or not.
Perfect Shape:
Instead of copying others and wearing an uncomfortable dress why not give a keen look what suits you well. Not everyone has a glass figure so you need to get the dress according to your shape.
Flatter Your Body:
Well, you must have a clear idea that which part of body you to enhance. Whether it is your upper body, the sleek arms or your legs? Go for the dress which is perfect for flattering your body.
Top Trends Of Bridesmaid Dresses 2020
 Well, you must look trendy and awesome in such a special day. The first thing is that you must now which type of look do you want a classic one, romantic one or a bold one. Then go for the specific dress which compliments to your taste. You can have stunning dresses from our website https://www.e4wholesale.com/ as well in a cheap price. Here is the list of few dresses from evening dresses wholesalers which are so awesome.
1.Romantic A-Line Tulle Bridesmaid Dress
If you want a sexy look then you should go for this dress as it will give you a different way to represent yourself. The deep neckline enhances your upper body and the backless design gives you a perfect way to show your curves in a better way.
The floral print on the skirt gives it a different look.  The fabric used in it is polyester which has the ability to have a perfect fall and gives your body a nice shape. There is a concealed zipper in the back which gives you a proper shape.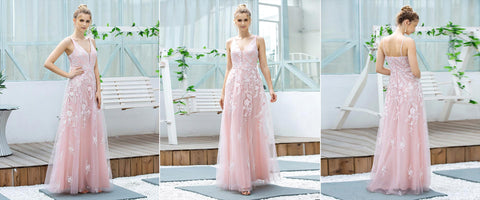 2.Sequins Floor Length Single Shoulder Bridesmaid Dress
Do you want to shine in a party? Then you must select this shimmery dress which gives you a gorgeous look. It is styled with one shoulder strap which gives you a perfect way to show your upper body.
There are no sleeves attached to it and you can show your sleek arms in a nice way. The back is open from one side and you can show your curves in a better way. The material used in it is 100% polyester and with the concealed zipper at the back secure your dress in place.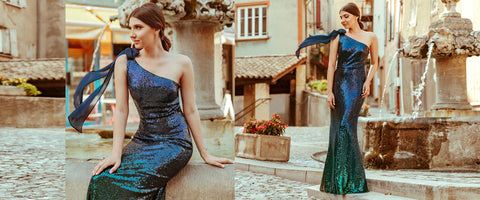 3.Elegant Halter Ruffles Adjustable Bridesmaid Dress
The delicate ruffles on the dress enhance the movement and the flow in a perfect way. It is fully lined and the fabric is not stretchy as well. The floor length gives it a perfect fall.
The ruffles on the bust area give it a different look and the open back looks quite sexy. The waist area in beautifully designed with ribbon which gives it a proper fitting. The halter in the neckline is adjustable and the zipper back secures the dress perfectly.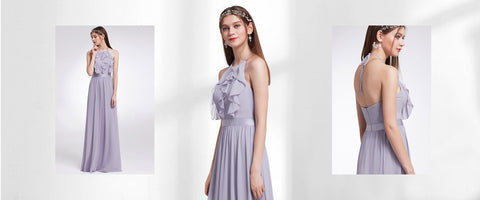 4.Elegant V-Neck Long Bridesmaid Dress
 If you want an elegant and simple look then you need to try this dress. The ruche bodice gives you a flattering look and the lace in the neckline is quite beautiful as well.
 The dress is beautifully lined and there is no zipper attached in the back. You can secure your dress with the corset and you can customize the fitting accordingly. The material is polyester which is quite fine and the floor length makes it to look like a proper formal.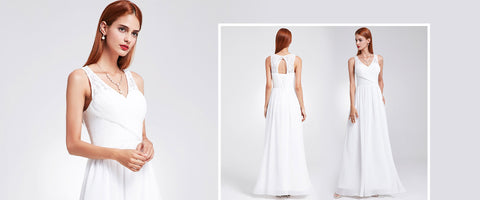 5.V-neckline See Through Beaded Bridesmaid Dress
Do you want to enhance your upper body? Then go for this dress as the neckline is deep which gives you a trendy look. There is no sleeves attached and you can show your sleek arms in a perfect way.
The bust area is decorated with beads and it is see through as well. You can show your curves in a better way. The zipper in the back is properly concealed and the fabric is not stretchy as well.
Conclusion:
To sum up, the wholesalers evening dresses provide outfits which are beautifully stitched and the style is quite unique as well. You can get the best outfits according to your body type in a reasonable price. So, don't look outdated in such a special occasion and enjoy it with full bloom and wear an awesome outfit as well.