All fashion conscious ladies out there would love to flaunt their chic style this summer season with the casual and playful dresses available at our store on Ever-Pretty. Revamp the collection at your store as these designer inspired summer dresses are available to you at affordable prices.
You don't need to look any further than what is currently being offered at our site as we house the trendiest outfits season after season for our esteemed retailers. We understand that all lovely ladies out there would be attracted to adorn breezy, cool and flowing summer dresses.
Keeping this trend in mind, we have curated our latest selection for the ease of our store owners so that you can update the collection at your shop without any difficulty. Get ready to renew the summer vibrance in your collection with these coolest trends in fashion. Take a look at what our editors have rounded up for you from our freshly designed summer dress collection.
1.The Alluring Tie Dye Summer Dress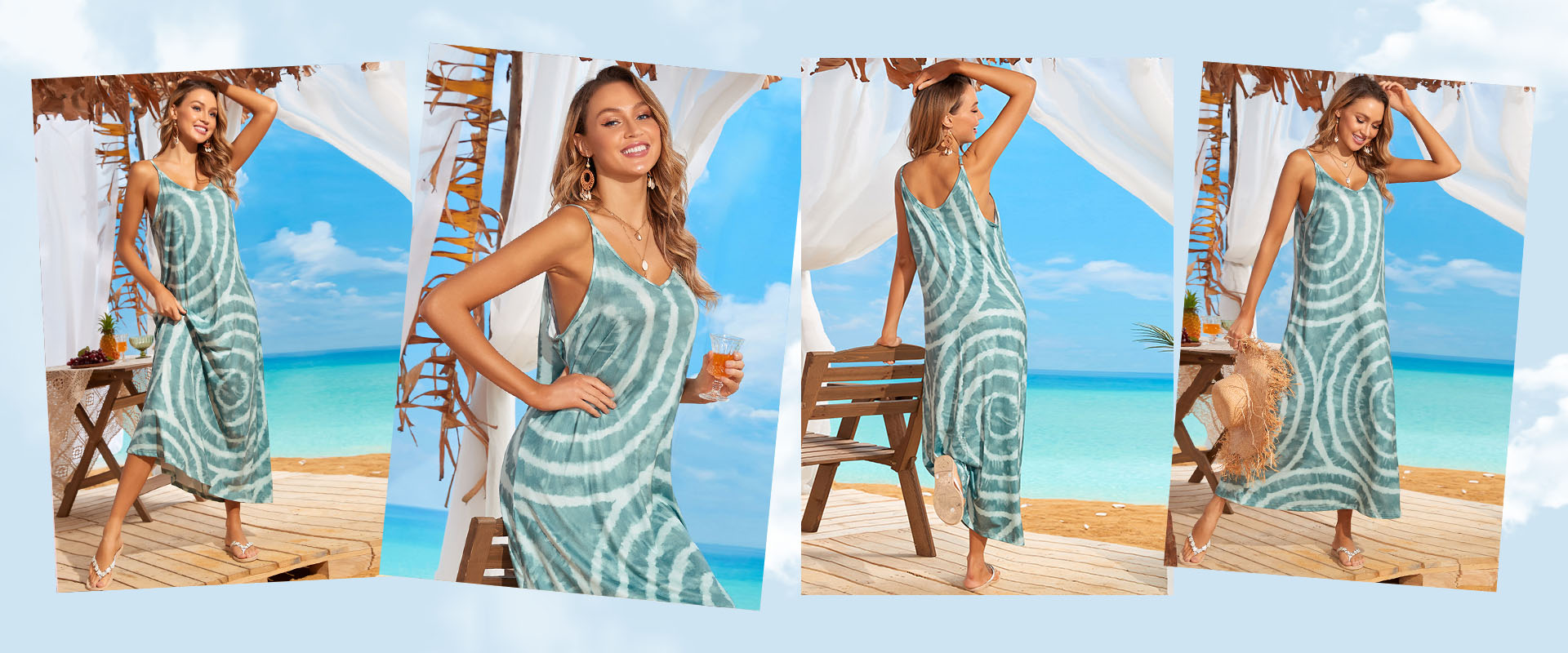 This cute and sexy tie dye wholesale summer dress exudes a captivating vibe that is bound to enthral your customers instantly. The A-line silhouette of the dress combined with spaghetti straps makes it comfortable to be worn for any casual outing or even at home. The artistically designed dress injects a shot of uniqueness and is a raving fashion trend of the season. The hot summer days ahead will surely make your customers reach out for this style as soon as they set their eyes on it.
2.The Versatile Shirt Dress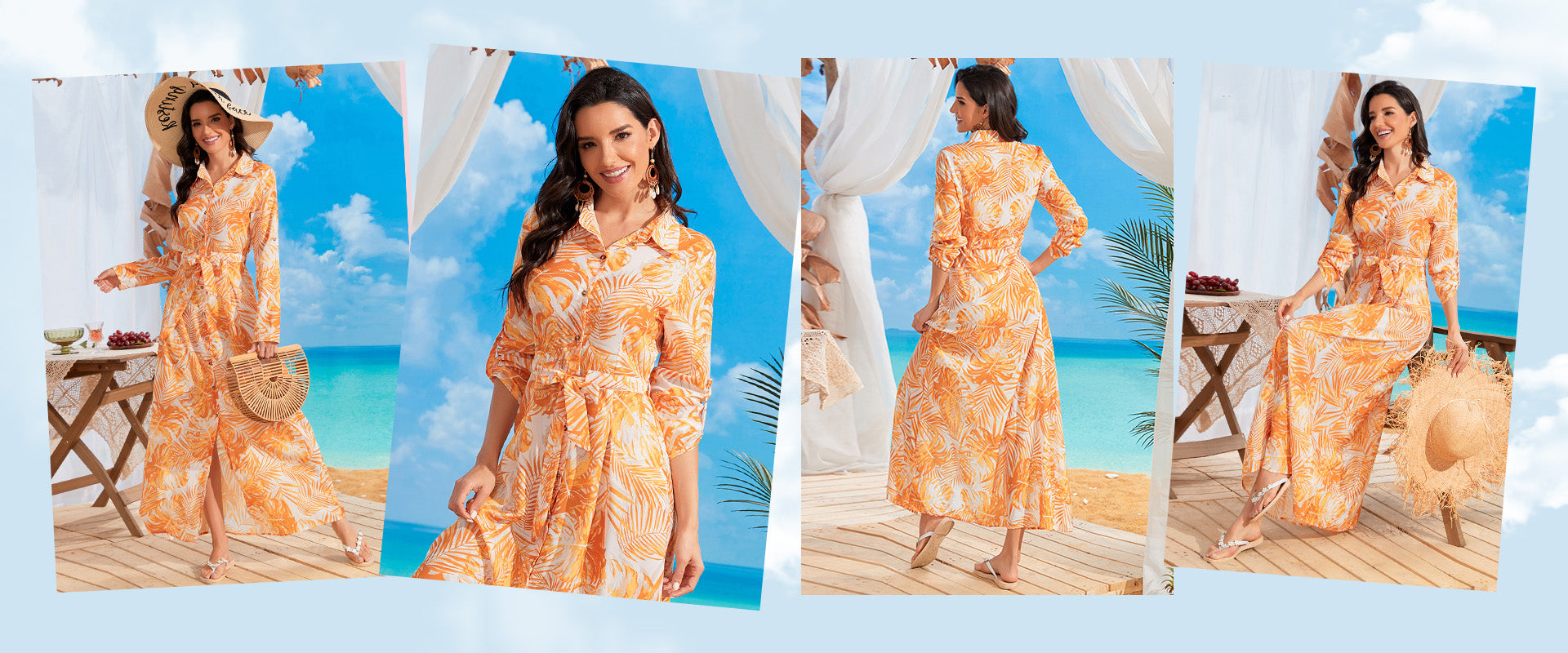 Your customers will love to rock the look of the timeless trend of the shirt as a dress. There are tons of different ways to style this effortlessly cool piece, thereby making it extremely versatile. Not only are shirt dresses a perfect look for the hot summer months, but they can be easily dressed up or down by pairing it with the right accessories. This buttoned up tropical print dress features a belt and has sleeves that can be adjusted as per the desired length.
3.The Appealing Leopard Print Wrap Dress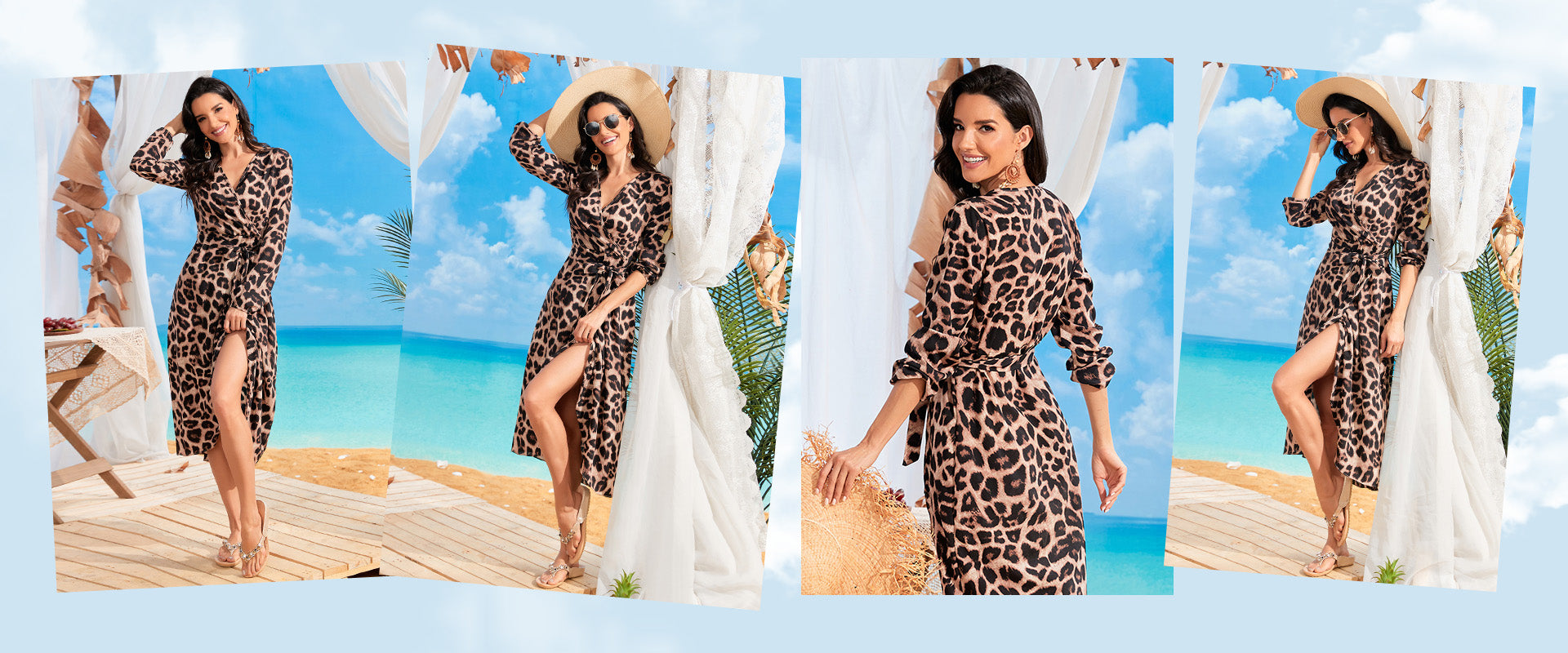 The leopard print never goes out of style and is always an attention grabber. The dress is bound to outshine the rest inevitably with its charm. This stunning leopard print dress ties up at the waist and elegantly falls to a midi length. The wholesale summer dress with split design and a deep V-neckline give it an even more attractive appeal that will definitely draw your customers attention towards it. The wrapping element of the dress provides this dress with an extraordinary feminine and flattering fit.
4.The Uber Feminine Floral Dress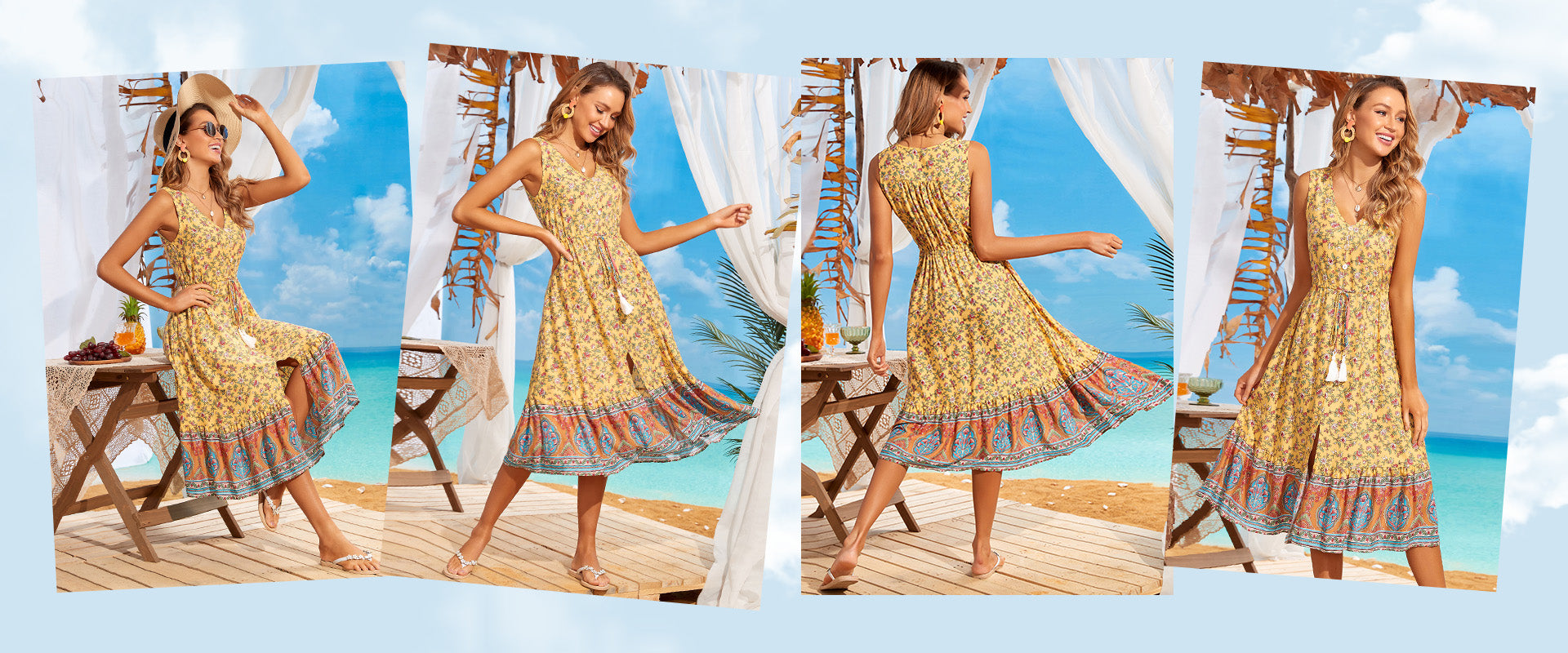 A floral dress is a must-have in every woman's wardrobe, and when you display it in your shop, it will be sold off in a flash. One of the prettiest patterns for summer dresses is the floral print, and it does not fail to impress ladies. This wholesale sleeveless summer dress with deep V-neck, a split and the stunning yellow floral print all over the dress makes it a hot choice for your customers. The delicate tie-up at the waist enhances the overall beauty of the dress. This fascinating dress is like an ode to the upcoming summer days.
5.The Mesmerising Tier Dress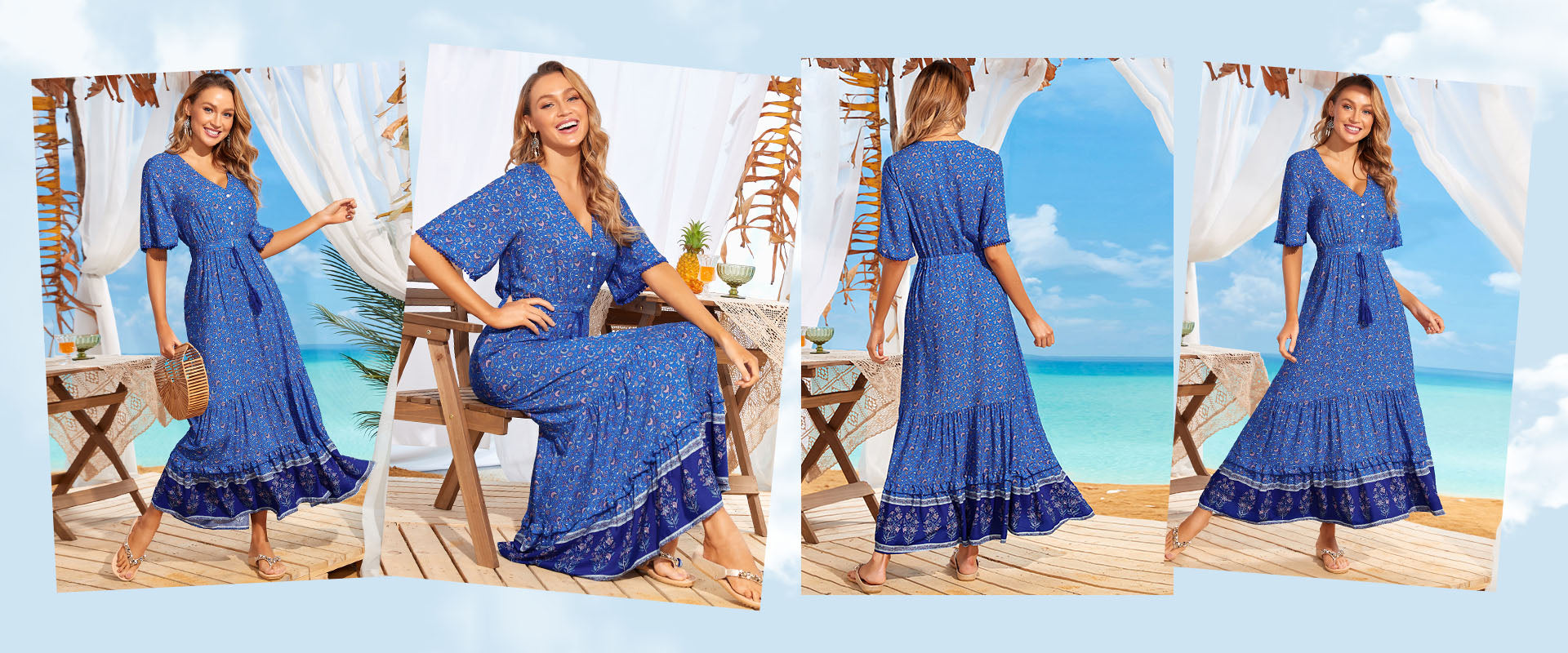 Tier vacation dresses in floral print have always been our bestselling product year after year. It is the perfect summer outfit choice for this season, and ladies adore it for the freshness this structure emanates. Our vibrant blue floral tier dress in short sleeves and V-neck that has a flowy A-line silhouette is up for grabs at Ever-Pretty! The dress has a bohemian vibe to it and features a casual waistbelt that accentuates the slender waistline of the wearer, thereby making the look more attractive.
6.The Enchanting Strappy Casual Dress
Wholesale summer dresses are fun, and this maxi dress is all things flirty and comfy. This full-length dress is feminine and perfect for your day time summer outings. The pleated element of the dress makes it flouncy and gives it a vivacious charm. The fitting top part of the dress combined with spaghetti straps lends it a sexy appeal. The wearer of the dress is sure to look radiant in it.
If there is one reasonably priced wholesaler you want to count on to churn out the trendiest clothing at the speed of lightning, it's Ever-Pretty. After seeing our latest summer dress collection, you will be impressed by the array of the new season styles that we have made available at our shop for you. We are constantly striving towards offering you stunning new pieces season after season, and our summer dress collection happens to take our casual dress designs a notch higher.