Spring is the time for all things fresh and colorful. It's the right time to harness some of that energy into your clothing range and enjoying all those styles that felt a little out of place for the past few winter months.
Keep your collection fun and youthful so that your customers will stun at their next party. They will want to keep coming back to your store for more such energetic designs that make them the center of attention at any party.
With the rising temperatures, it is the perfect time for you to revamp your collection so that your customers can refresh their wardrobes with some of the choicest styles of the season. We at Ever-Pretty are continually updating and developing new designs that are fresh off the runway and finally in our stores to cater to the tastes of our trendy customers.
Let's take a look at our hottest collection that we are proud to reveal this spring of 2021.
1.Spring Frills and Thrills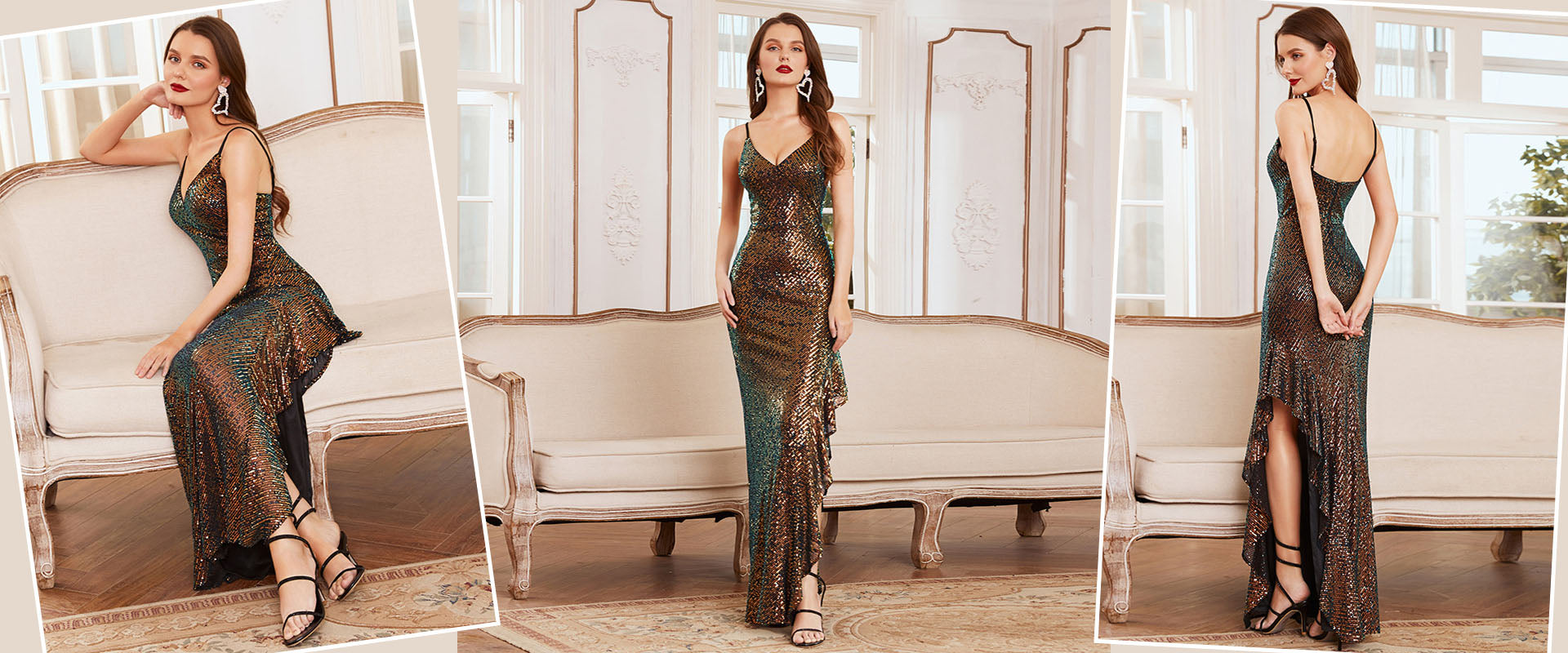 Let the clothes you stock resonate with the joy of freshness in the air. And frills do precisely that! They make the garment stand out in style and give everyday pieces a brand-new aura of their own. Taking inspiration from the '60s, this fashion trend is maintaining its position in the fashion world for quite a while now. Our sequin evening dress with spaghetti straps is a fabulous addition to our collection of evening dresses online and has an asymmetrical frilly hemline. The multi-colored paillette all over the dress is a supremely mesmerizing combination that complements the structure of the outfit flawlessly.
2.One-Shoulder Extravaganza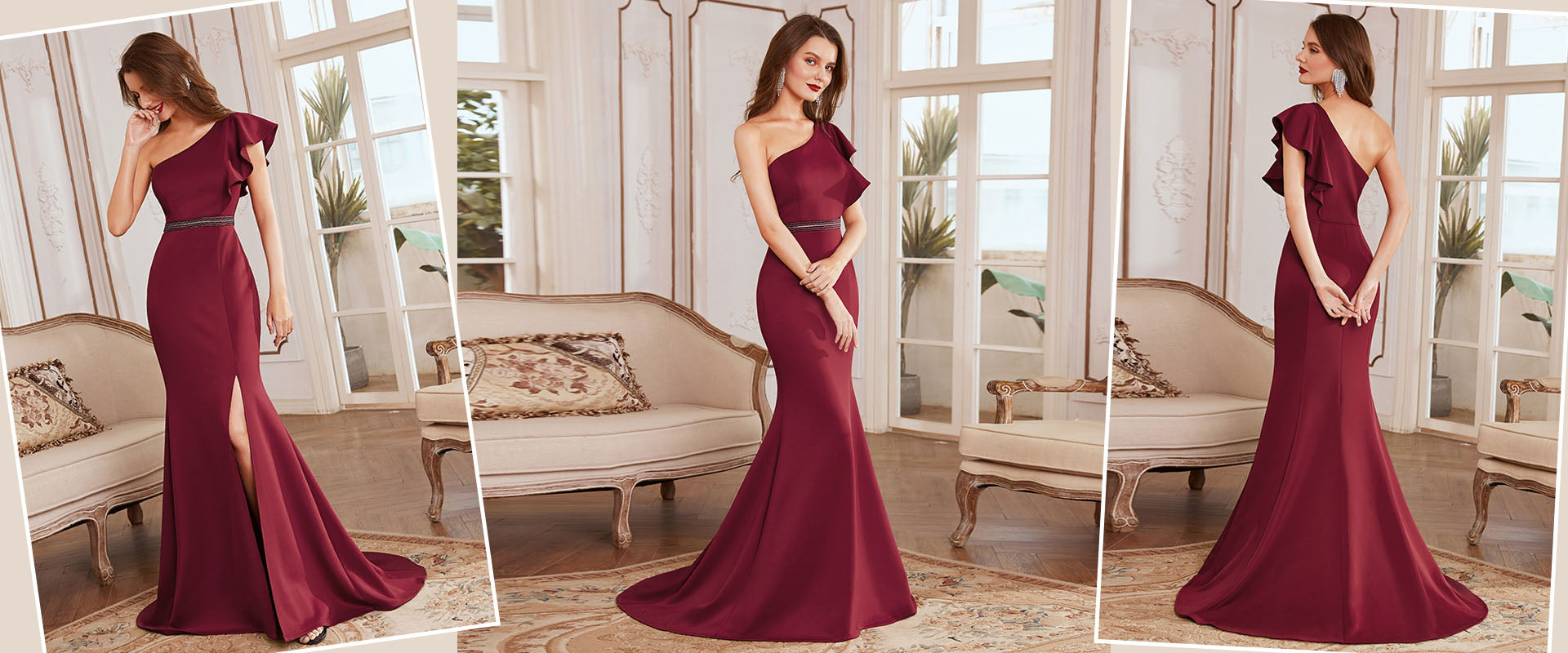 Our show-stopping party look is an off-shoulder ruffle sleeve dress that has a thigh high slit. This dress is a stunner by itself. An off-shoulder dress looks incredibly chic, and when combined with a high slit, it looks uber feminine. Our designers predict that this trend of off-shoulder wholesale evening dresses is here to stay as it is an extremely flattering style that suits most body types. The dress has a fishtail silhouette and also comes with a waist belt that cinches the waist to give an immaculate shape to the figure of the wearer.
3.Spectacular Mermaid Tulle Dress with Sequin Appliques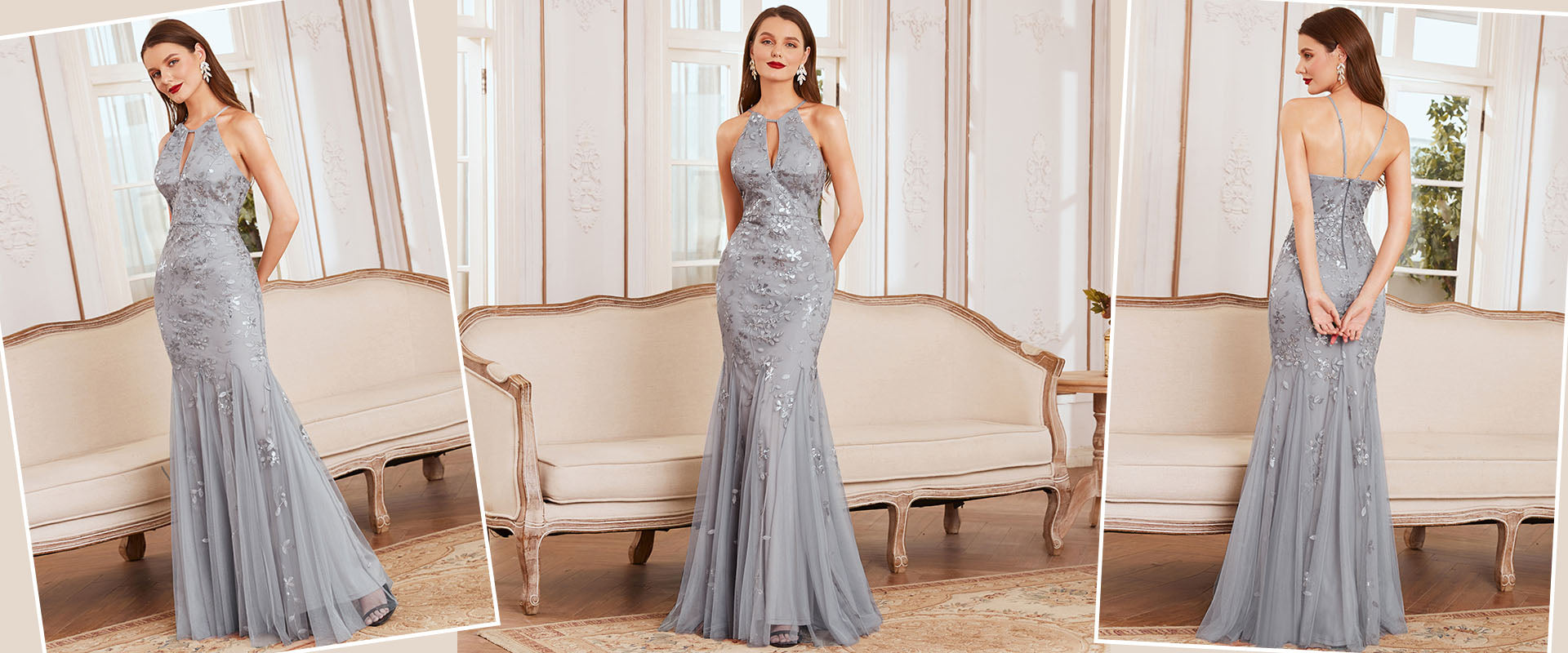 This dress with a halter neckline features a spectacular cut out design on the neck that is not only stylish but also sexy. The embroidery and the sequin appliques all over the dress give this dress an incredibly ethereal charm. The tulle structure at the base of the dress completes its mermaid silhouette perfectly. The dress sure is a class apart considering its magnificent design. If you are in search of expensive looking but cheap evening dresses online, then this dress is a must-have in your collection, and you can stop your hunt here.
4.Satin and Sequin Make an Astonishing Combination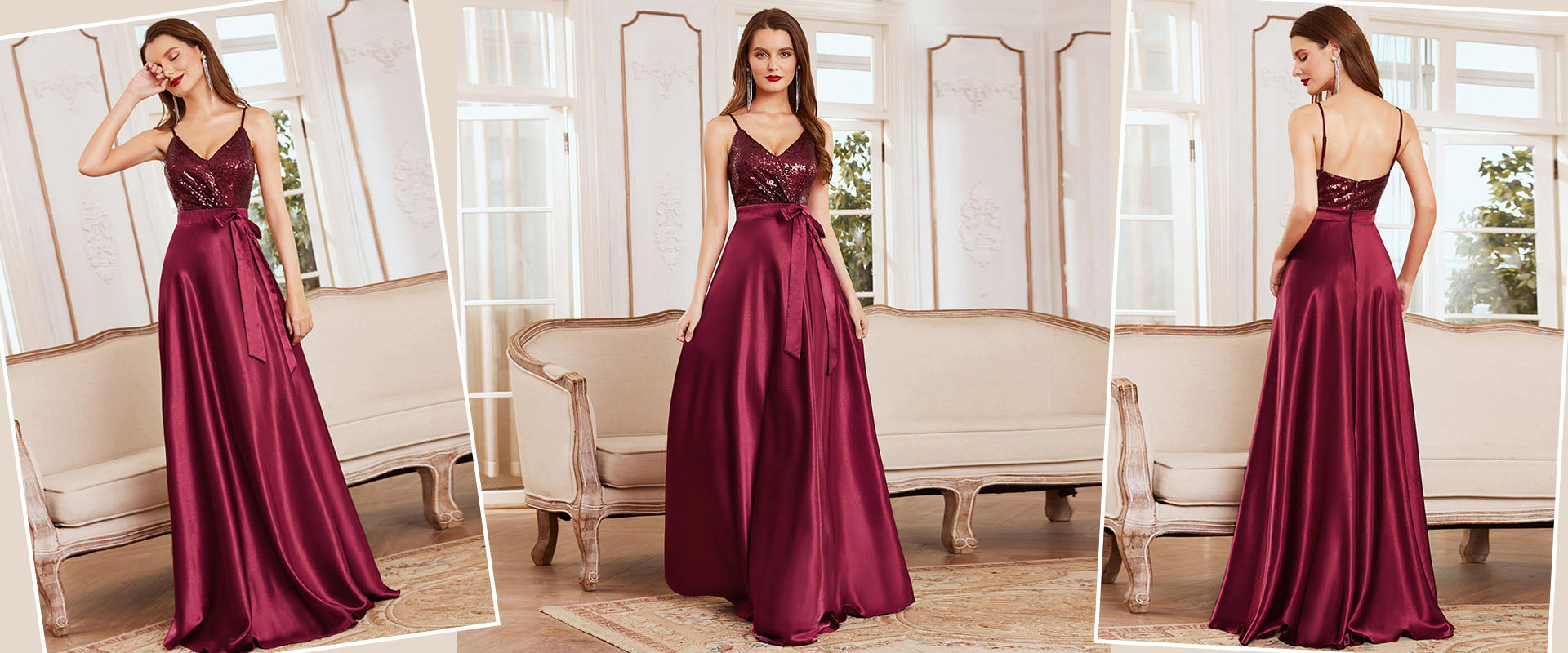 The elegant sheen that a dress created out of the satin material exudes is brilliant. The subtle satiny gleam, when combined with a touch of sequin, creates just the right amount of drama that is perfect for making a style statement. Our wholesale evening dress in this particular style comes with a bow tie knot on the wait that brings out the feminine grace of a lady stylishly. The spaghetti straps and the sequin on the bodice make this dress stand out in sophistication and classiness.
5.The Off-Shoulder Ruffle Glamour
Ruffles on clothing have been leaving their mark on a number of styles since the past few seasons. They are so versatile that they can be adorned in a formal dress as well as on a casual one. This year too, ruffles have rocked the runway, and our store, as well, has come up with the latest designs incorporating ruffles in them. Our ruffled white evening dresses online in the fishtail silhouette are all things angelic. This dreamy dress is all things graceful and yet fun. The cut of the dress is figure flattering and highlights the perfect figure of a lady who intends to flaunt it.
With our exclusive range of such spectacular dresses that are waiting to be in your store, your business is definitely going to grow by leaps and bounds this season. Why blend in when you were born to stand out? That is what we believe in, and our dresses display this individuality and emphasizing on defining one's silhouette.
Our wholesale dresses are known to be a buyer's delight as they are not only sophisticated but ooze out oodles of romance along with being the latest in fashion. If you want your dresses to make an everlasting style statement, then it is time you elevate your aesthetics overall and carve your niche as a trendsetter in the fashion world.