"What do I wear??!!" I bet all of us girls out there have asked ourselves this question at some point in time. So how does one find the perfect dress to wear that will put an end to this dilemma of ours? Choosing the most gorgeous gown which flatters your body type and skin tone is one of the key decisions to make and should be an extremely well-researched investment.
Here is a handy guide, from our experts at e4wholesale.com, that will serve as a benchmark for the must-have dresses in your wardrobe. Own the most appropriate dress styles in diverse forms so that you will fit in beautifully and wow fellow attendees at any occasion.
Sequenced Tulle Dress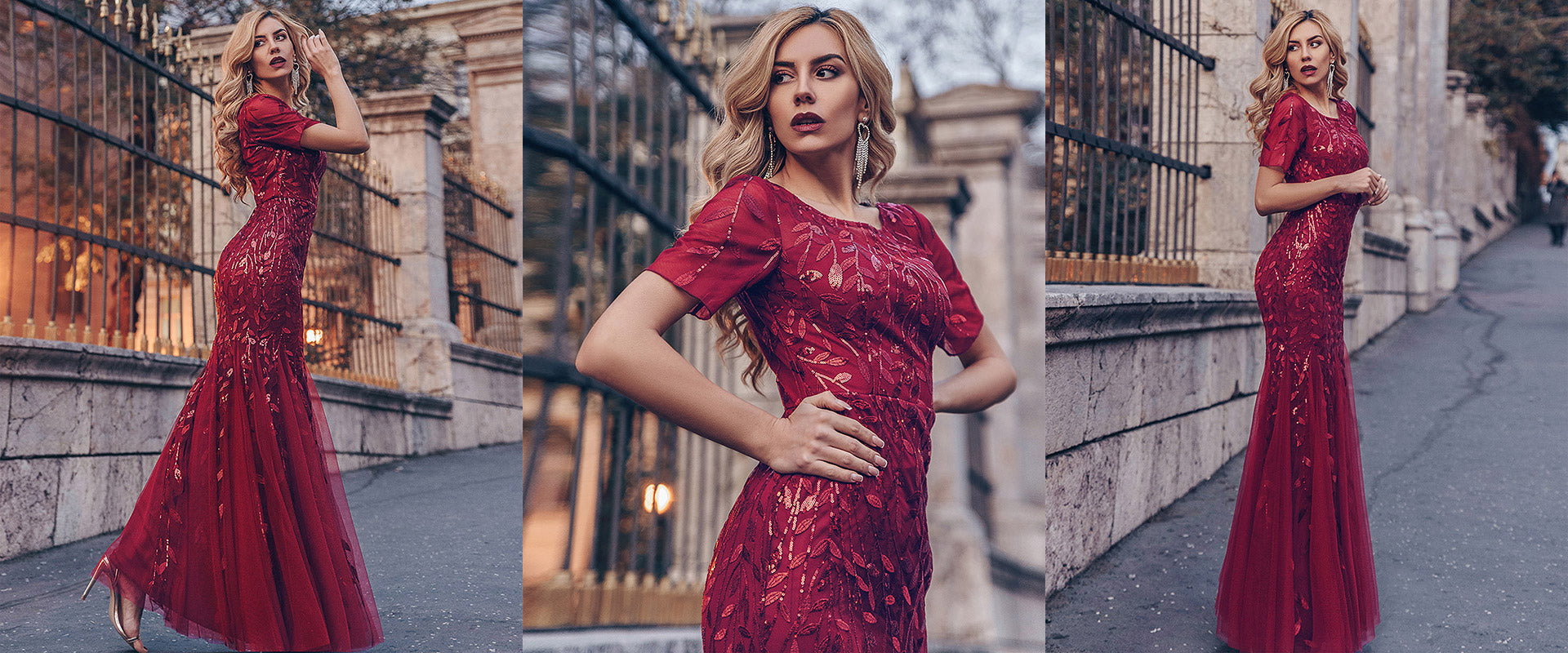 An enigmatic gown which is bound to be a show-stopper, come what may, is the one in sequin. Combine sequins with floral and add a tulle to it. There you have it! An enchanting sequenced tulle dress that oozes glamour with its shimmer. The gown can be structured in a fishtail silhouette to give the wearer a fascinating charm. This style of dress is perfect for those who wish to put their gorgeous curves in the spotlight, as it elevates those with a perfect hourglass figure. Timeless silhouette in lace fishtail evening dress, combined with a perfect fit will make you feel flawless all night long. The delicate detailing of such a designer dress is sure to captivate any crowd and make you the center of all attention.
The Asymmetrical Delight
An asymmetrical dress always impresses one and all with its uniqueness. The high hem at the front with a trailing low hem at the back creates a dainty charisma. Go in for one in a deep V plunging neckline to add to the fascination. Enhance the beauty of the dress by complementing it with a sheer sequin belt. An asymmetrical dress is perfect for those who love a playful style. The fit and flare silhouette of the asymmetrical dress has its origins from Greek ancestry. You could accessorize the dress with a pair of hot heels, which would add height to your figure, thereby making your legs seem super long and your waist tiny and nipped in.
Shimmer and Shine
Look uber chic in a sexy sequin dress which is meant to mesmerize everyone with its gleam. You could combine it with a deep V neckline and a thigh-high slit for the dress to stand out even more. Since this style is best worn with long sleeves, it is not only a smart choice for cooler nights but is also incredibly alluring. The sequin dress is ideal for a fancy event like a ball or a black-tie dress code premier. Pair this floor-length dress with heels to make it work perfectly. Opt for such sequin evening dresses and gowns when you're ready to make a real entrance, and wow the entire room!
Breezy A-line Dress
A-line dress womens evening dresses are designed to fit at the waist and gradually flare out towards the hemline. Combine it with a delicate floral lace bodice to give it that extra oomph. A deep V neckline gives it that captivating look. This style suits pear-shaped bodies the best as it emphasizes your beautiful top half and adds a feminine touch to your lower half. One might consider a lacey A-line dress to be synonymous with the 90's fashion trend but remember that they are timeless classics and wardrobe staple that have become quintessential party wear. This elegant iteration from e4wholesale.com in white evening dresses online, nails the minimalist and polished aesthetic with a flowy skirt. You can go full throttle on the feminine road by pairing it with pearls and elegant pumps.
Spaghetti Strap Maxi Dress
A spaghetti strap dress combined with a plunging neckline and a super thigh-high slit is a great way to acquire attention. Add some shimmer to this, and there you have a gown that people will swoon over. Wear this spaghetti strap dress in a form-fitting style having a straight cut that is nipped at the waistline, without any visible seams. Timeless femininity combined with effortless elegance and oozing out vibes of a hopeless romantic, that is what this dress says. This dress is perfect for someone who wants to put emphasis on their shoulders and legs and make the world stop and turn! If you've got it, flaunt it lady!
With these dresses in your wardrobe, it doesn't matter whether the weather is hot or cold as these gowns bring in the fascination and positivity with their vivid designing. If you have these dresses in your collection, you will always have something to wear at the drop of a hat that will bring all the attention to you. You are bound to shine bright at the next big night in these gorgeous dresses. Go ahead and invest in these evening dresses on sale now from e4wholesale, to get your wardrobe ready for a whole host of soirees.