Maternity fashion is not meant to be drab. We at Ever-Pretty are ready to show our stylish expectant mothers that pregnancy and fashion are not mutually exclusive. As we unveil our recently launched category of maternity dresses, we take pride in the designs of our pregnancy outfits that are uber cute.
Our exclusive range is an answer to all wardrobe prayers for pregnant women. Our beautiful customers do not need to shudder at the thought of dull maternity clothes any more as every single one of our maternity dresses is super chic. The best part about our exquisite dresses is that they can be sported after delivery as well.
Get ready to be amazed at the number of incredible pregnancy ensembles that we at Ever-Pretty have to offer. Right from the classic maternity maxi dresses for evening wear to chic pregnancy dresses for cocktail parties, or even an essential little black maternity dress. You name it, and we have it all!
Let us take you through some of the choicest dresses from our new collection.
1.One-Shoulder Charismatic Maternity Dress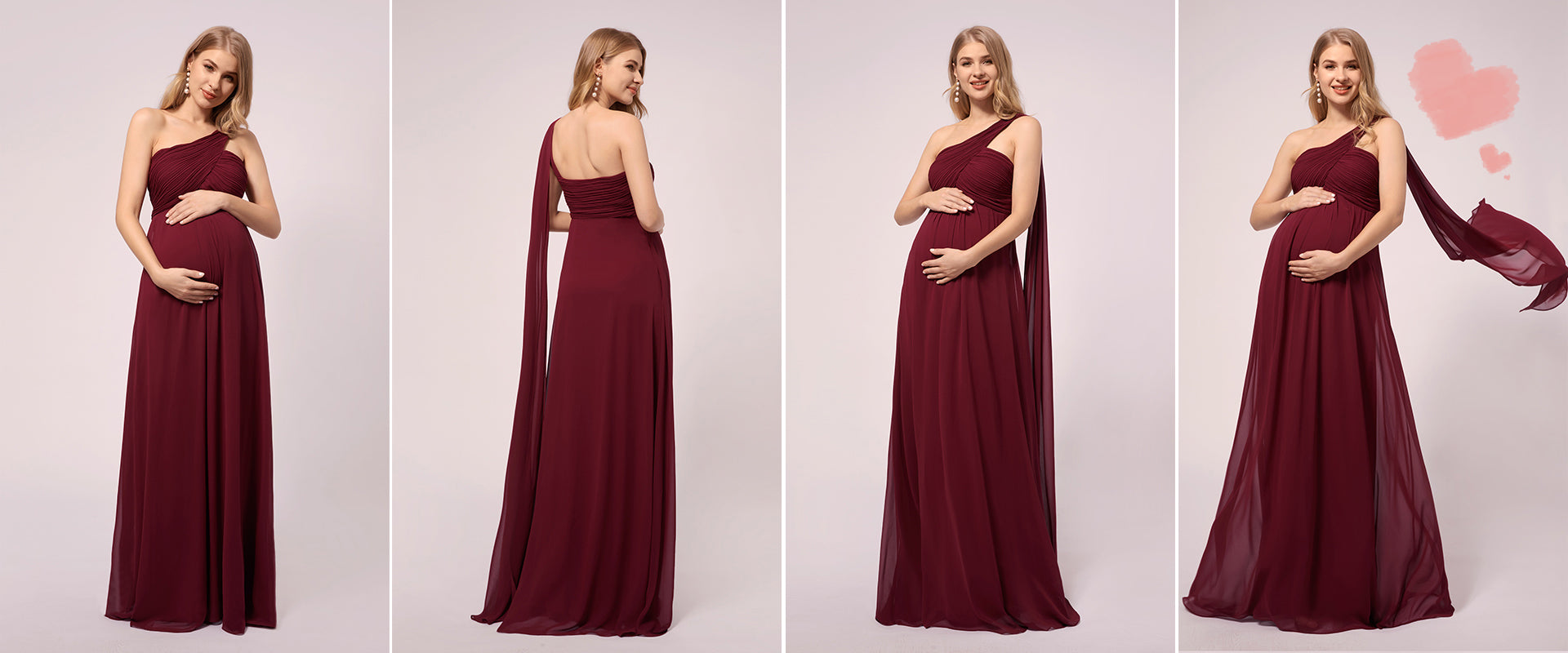 This off-shoulder extravaganza has a long flowy drape that is stylish and yet playful. This  maxi dress is a must-have for maternity fashion since it is super comfortable and lightweight. To give the dress a little structure, the bodice of the dress is beautifully pleated to make sure that our lovely lady stands out of the crowd. There is a flowing streamer of fabric on the one shoulder design of the dress that gives it a glamourous touch. If your client is in search of chic maternity dresses for weddings, then this is the dress to offer them.
2.Sophisticated Lacy Maternity Dress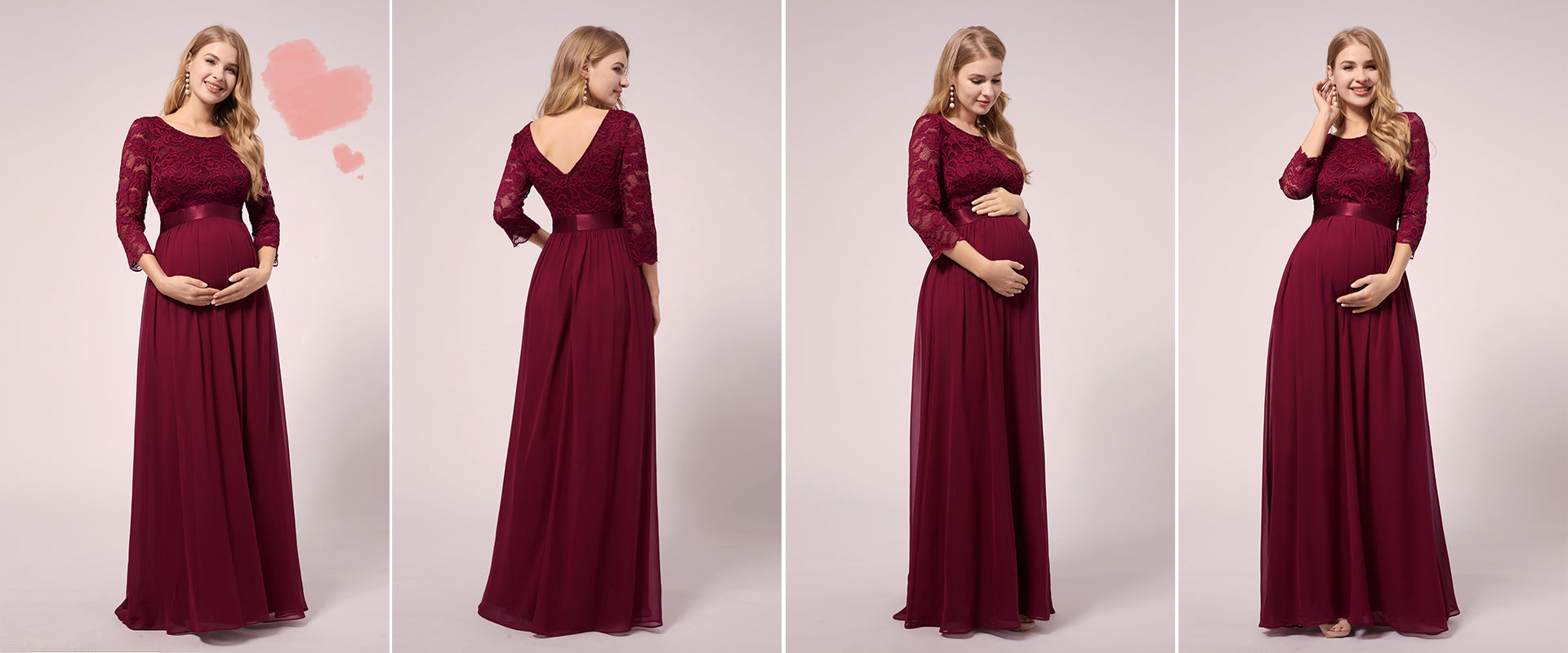 Lace is a fabric that is quite versatile and can be worn either casually or even at a formal event. Lace maternity dresses are one of the most sought-after dress materials by our stylish ladies, so having this in your collection is a must. Our one such dream dress comes with floral lacy three-quarter see-through sleeves combined with a lacy bodice. The waist is adorned with a beautiful wide belt in satin ribbon that gives this dress a distinctive form. The deep V-neckline at the back of the dress gives this dress its fashionable charm.
3.Following the Minimalistic Trend in Maternity Wear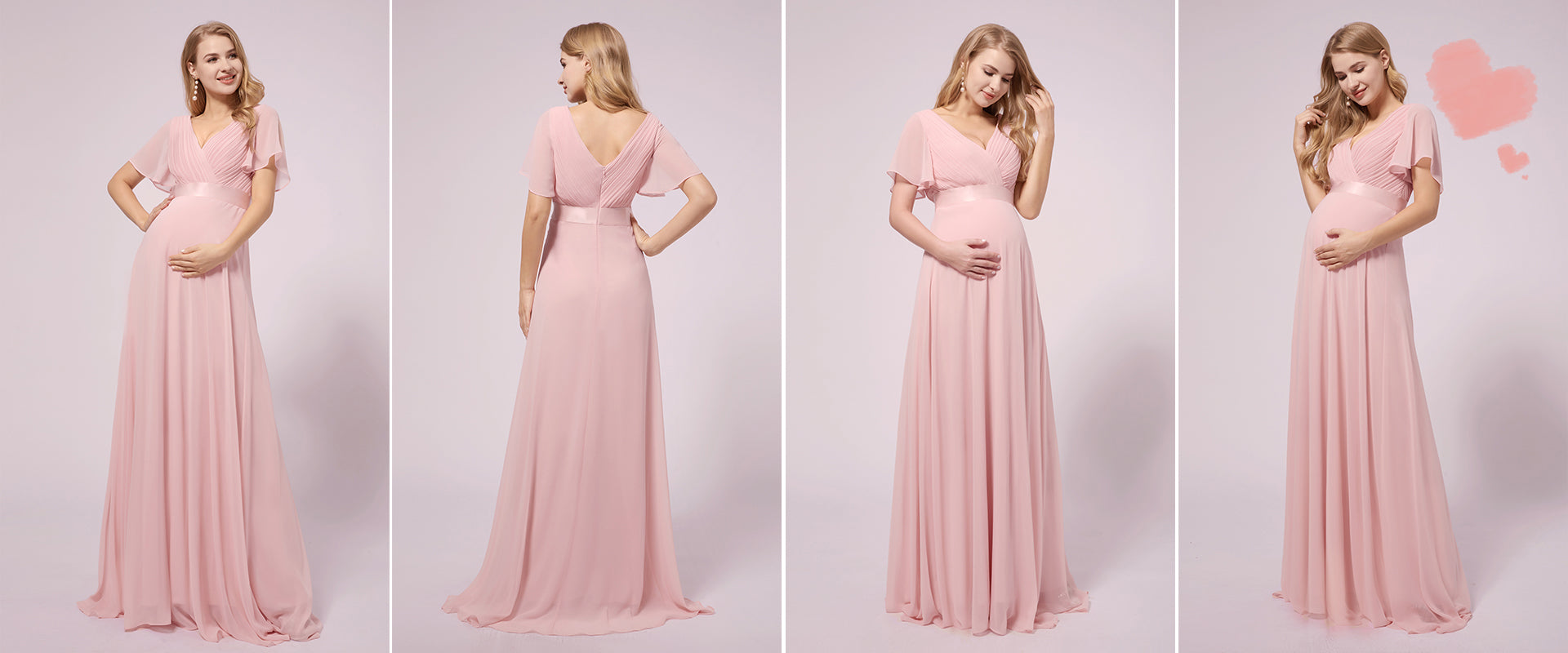 Our range of simple and light chiffon plus size maternity formal dresses are a blessing in disguise for the pregnant ladies out there, especially during the hot summer months. We present this style featuring the elegant short flutter sleeves along with a plunging V-neckline. The bustline of the dress is impeccably designed with pleats that give it an exceptionally classy look. The ribbon detailing on the waistline is an element that imparts a refined touch to this dress. The long floor-length of the dress brings out a magical princess-like charm.
4.The Tulle and Applique Marvel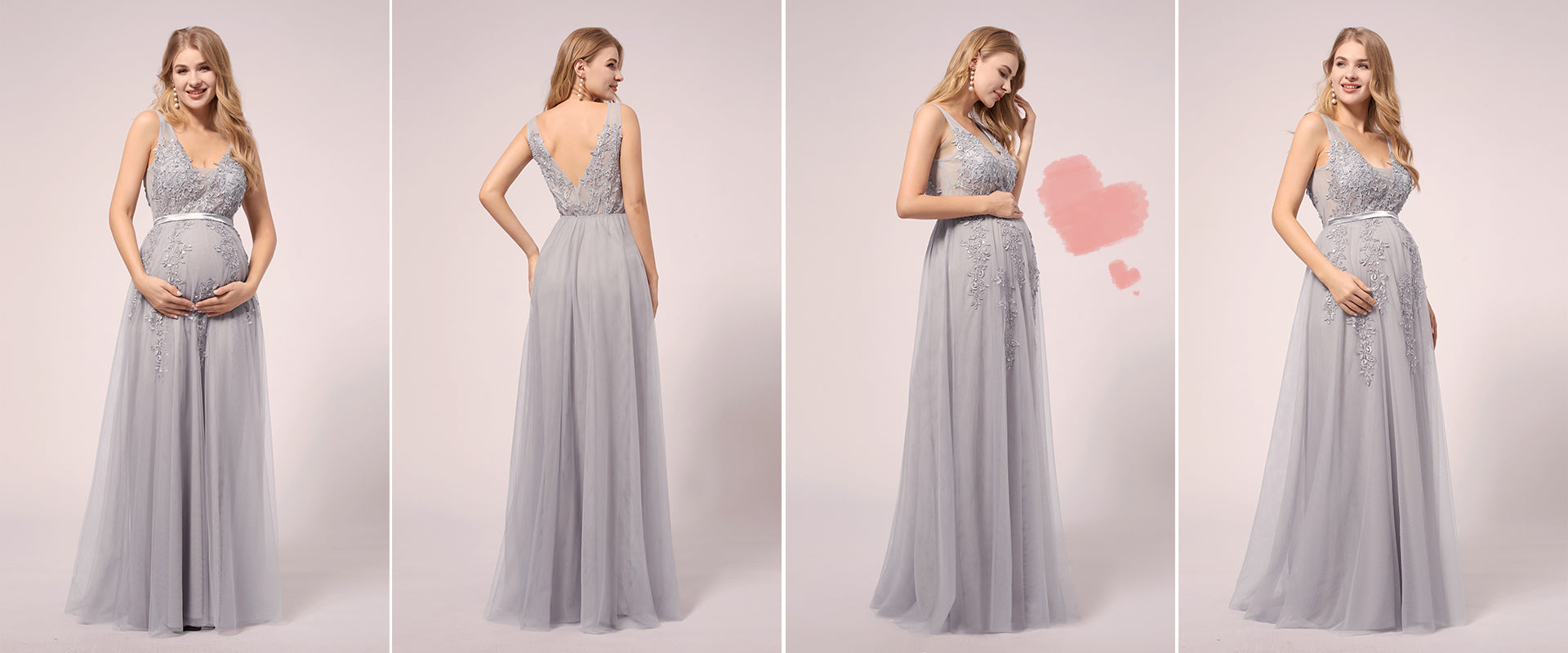 Give your customers the opportunity to look marvellous and remember you for it whenever they put this dress on. This fabulous dress features a floral applique design at the front and at the back on the bodice. This sleeveless dress is ready to charm your customers with its sleeveless, deep V-neckline at the front and back, along with a ribbon waistbelt design. The A-line tulle silhouette makes this one of those maternity dresses for pics to be clicked in them and memories to be cherished forever.
5.An Asymmetrical Enchanting Dress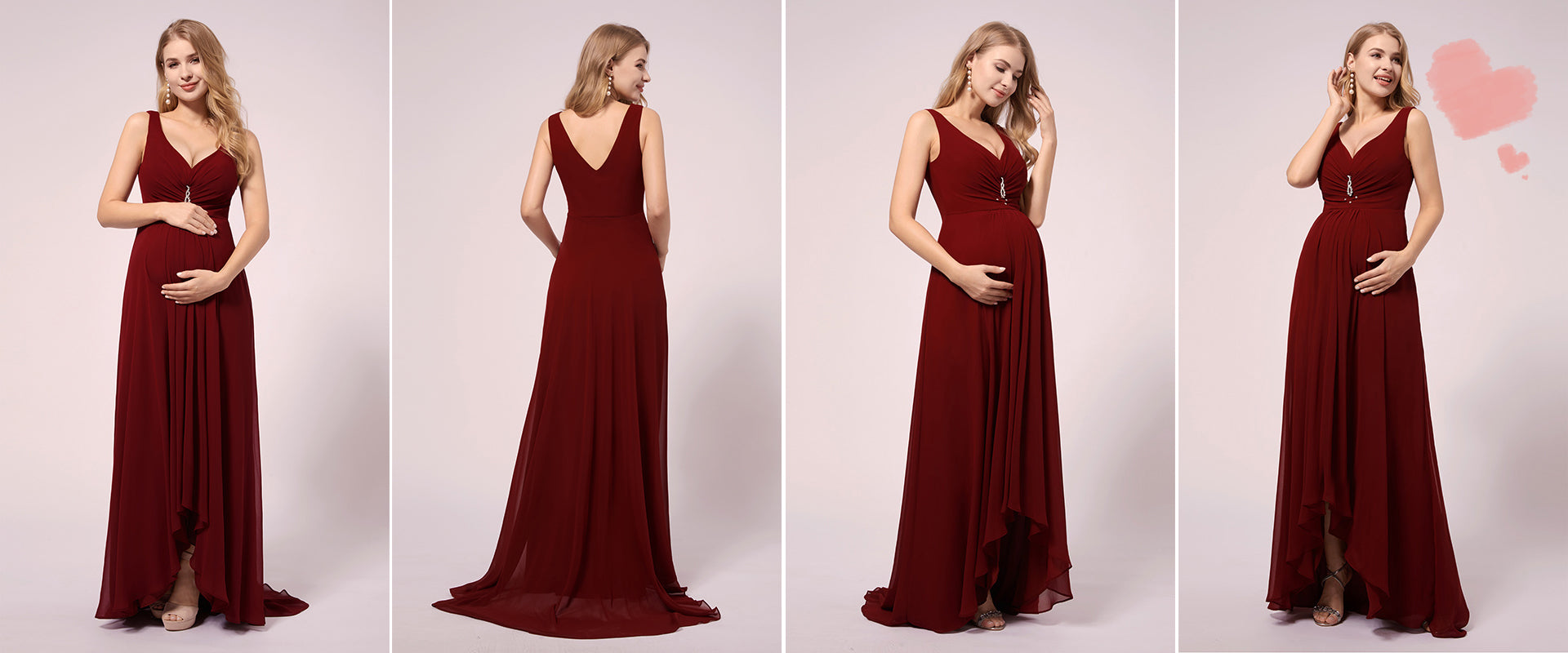 Incorporating style and comfort into one dress, especially during the time of pregnancy, is what your clients will be on the lookout for. If your client is searching for affordable maternity dresses for baby shower or for their friend's wedding, then this dress is the one they would simply adore. The dress has a sexy double V-neckline combined with a flattering asymmetrical silhouette. This sleeveless dress has a ruched design on the bust that is embellished with rhinestones that look classy. The high-low hemline is so much in vogue on the runway that your clients are going to beeline for this dress as soon as they set their eyes on it.
With the gorgeous dresses that we at Ever-Pretty have brought forth for you and your clients, we are sure that your sales will soar considerably after this. Gone are the days when maternity style was limited to just basics. Today, we understand that when a pregnant lady is already sacrificing so much just so that she can bring into this world a healthy individual, she does not need to sacrifice her own personal style too.
With our newly launched collection, our lovely ladies are bound to look incredibly stylish and dress like the superwomen they innately are. Our chic pregnancy outfits are such beautiful works of art that even the ladies who are not pregnant would love to add them in their wardrobe!