Well, I would be lying if I said that I wouldn't go in for an inexpensive version of the same dress that is available at a much higher price. Fortunately, there are abundant styles of bridesmaid's dresses available that are priced way below $50. These dresses are available online at wholesale rates and are like a dream come true for bridesmaids!
One such site is Ever-Pretty.com, where you can be spoilt for choice. But if you are enticed by even lower prices, then you are in luck as I am going to share with you a secret today! Grab unbelievable deals on brilliant designs of bridesmaids' dresses at the wholesale website - e4wholesale.com. Here, you can come across a plethora of bridesmaids' dresses that are way below $50 and yet exude an elegant vibe.
So why not surf the wholesale website of e4wholesale, not only for your wedding day outfits but also for your elegant party looks. The ideal reason for shopping on this site for your bridesmaids is that there is a wide variety of plus size dresses too.
Ready to browse through a humungous variety of affordable bridesmaids dresses that don't look cheap? Let us make things easier for you by sorting them by category.
Budget-Friendly Bridesmaids Dresses by Color
Narrow down on the color palate or go in for floral printed bridesmaid dresses that suit your location, season and simply your preference which is the first thing to sort out.
For a fall-winter wedding, you could select colors like cranberries or burgundies. Dresses in these deep colors highlight the ambience and are glamourous too. Off-shoulder bridesmaids' dresses have been in vogue and it sure does seem like a hot favorite. You could select them high-necklines too.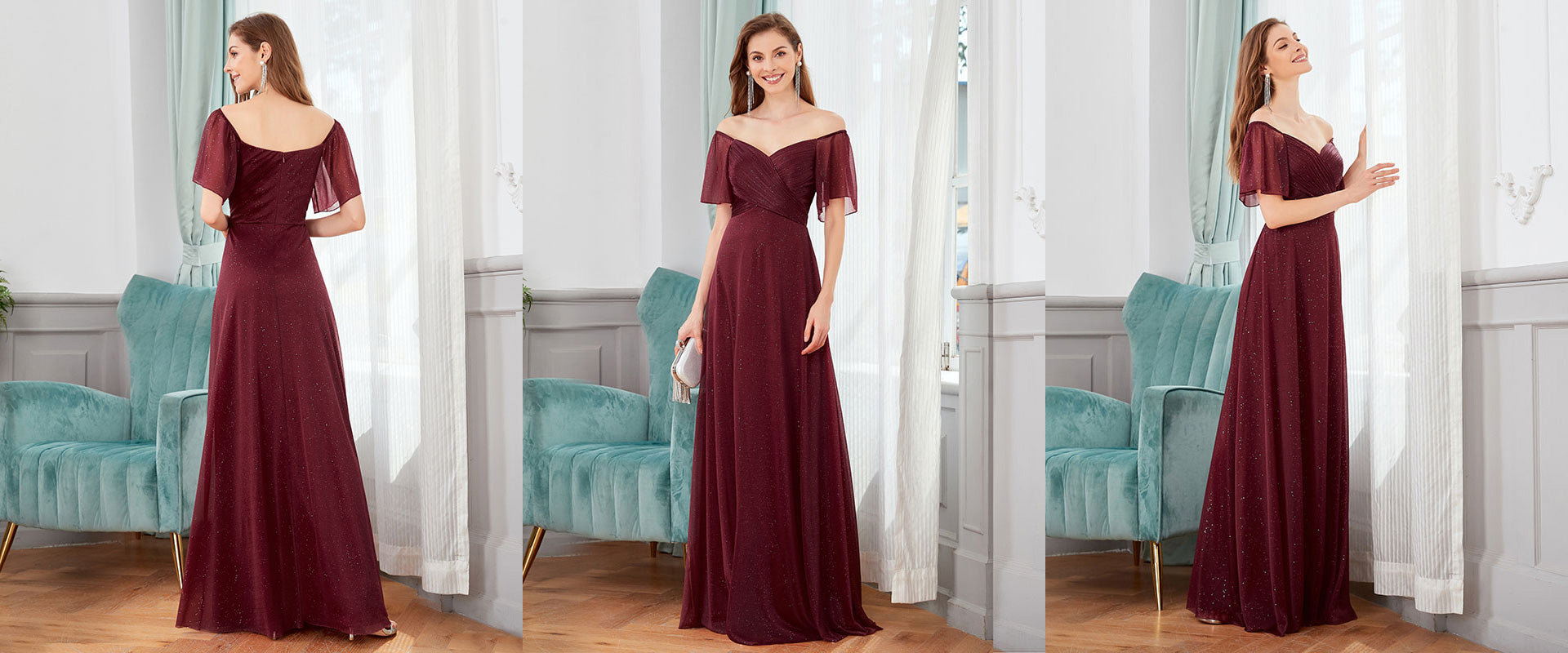 Purple dresses in shades of lavender to a deep eggplant can also be chosen for your bridesmaids. The lighter colors appear more casual, whereas the deeper ones are more formal. You could even go in for a mismatched bridal party theme, where you could combine grey, sage green, and silver which match most shades of purple exceptionally well. Go in for plunging V-necklines or intricate detailing.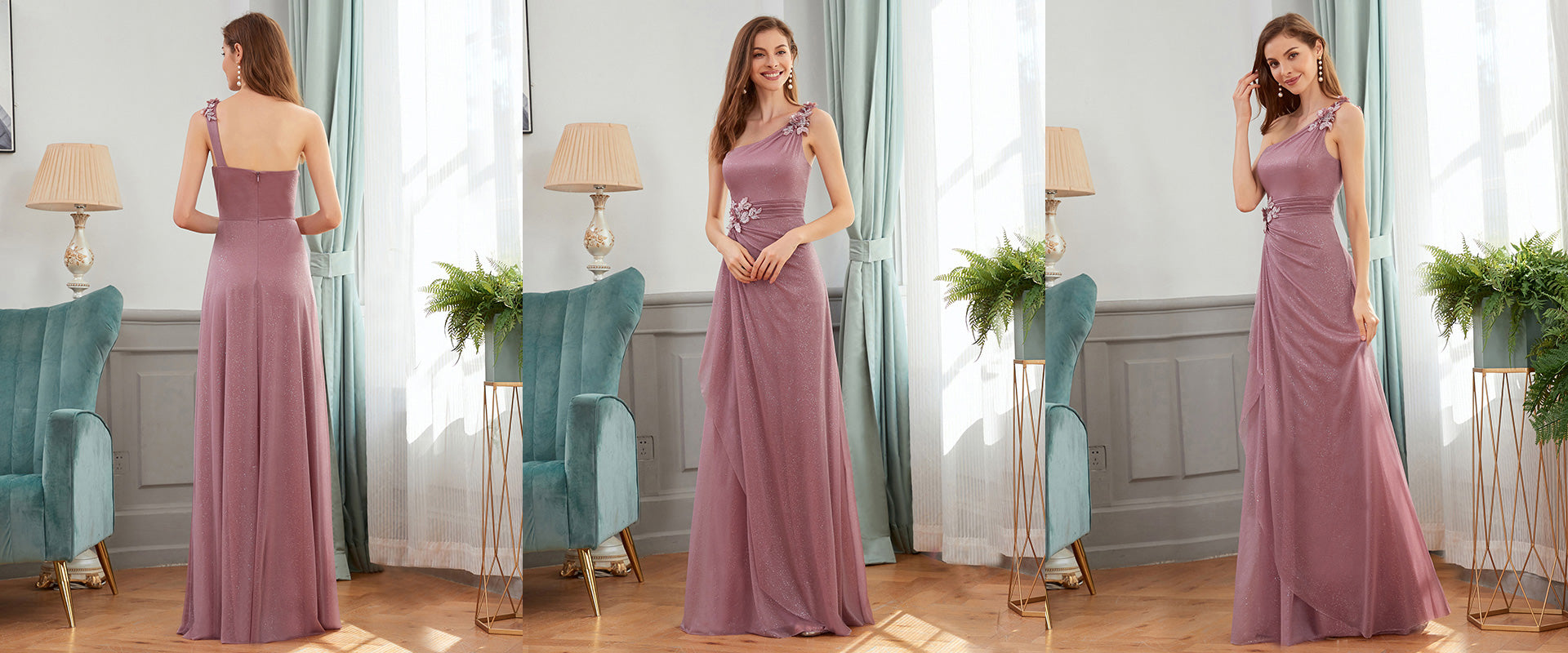 Blue dresses are apt for beach-side weddings or even perfect if you simply love the cool and calming color. If you want to go in for classic dresses that would stand out come what may then cheap navy blue bridesmaid dresses are what you are looking for. The elegance it adds is beyond compare.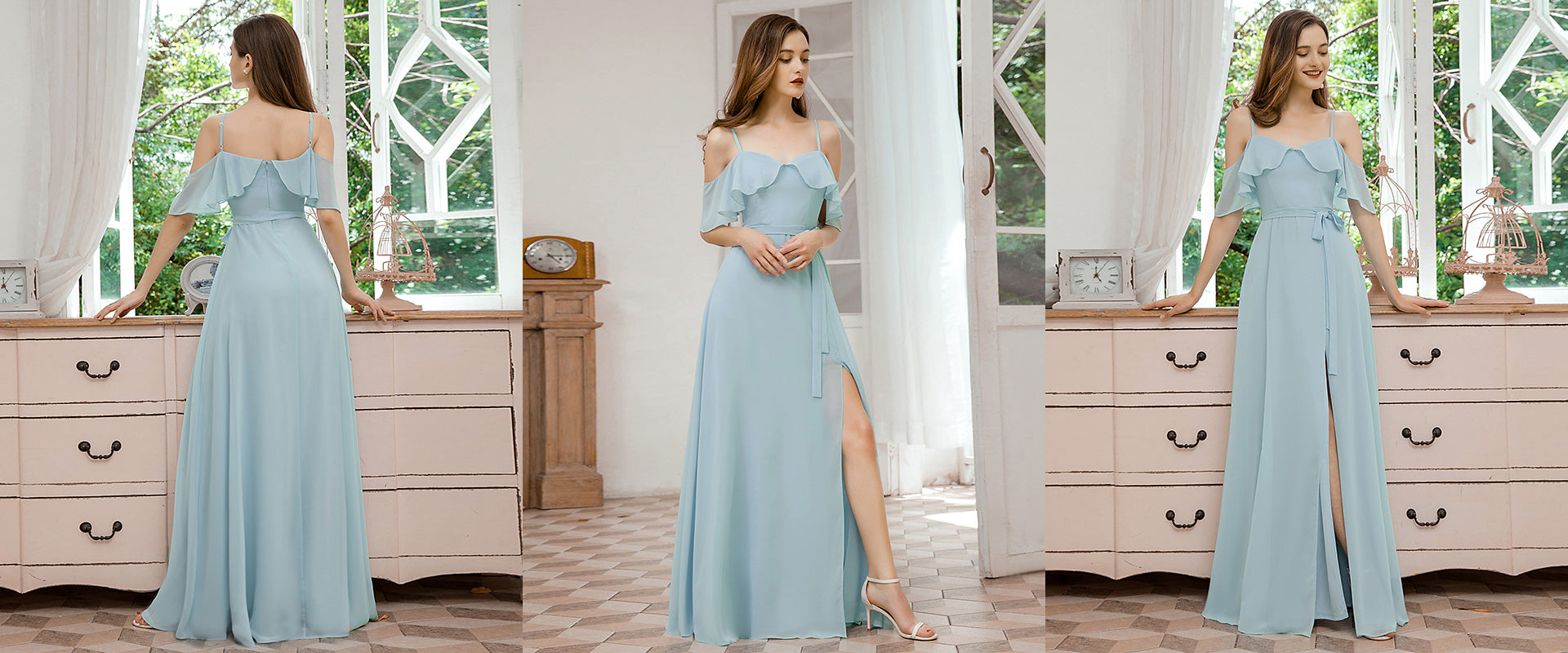 They say you can never go wrong in black. Yes, it is not a bridal color but it is trending these days at weddings. The best part is that your friend can make use of it later as well. Black gives out a more flirtatious vibe with its statement dressing. Go in for high necklines or high slits to balance the look.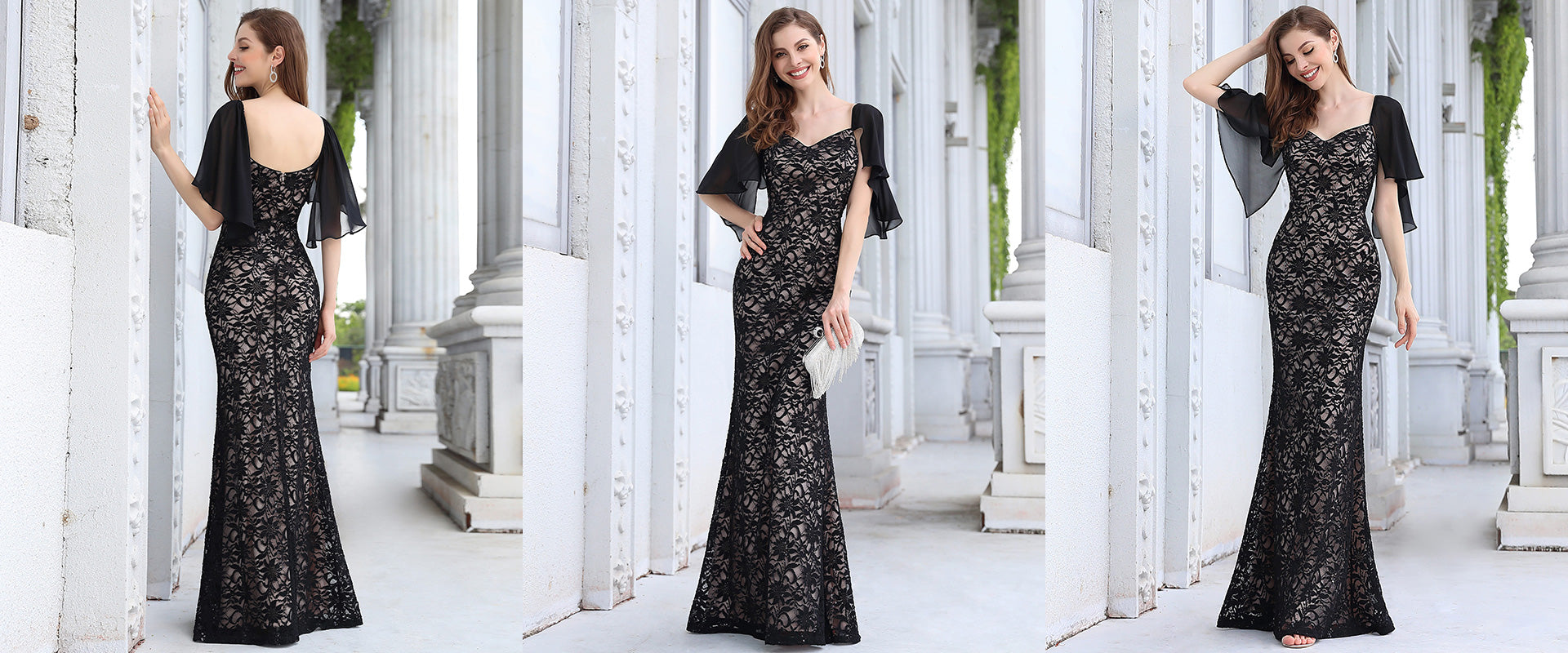 Red is a cheerful and a bright color that is perky enough to add joy to a wedding. Go in for ruffles or a fitted design in this vibrant hue to make your bridesmaids stand out and look exquisite.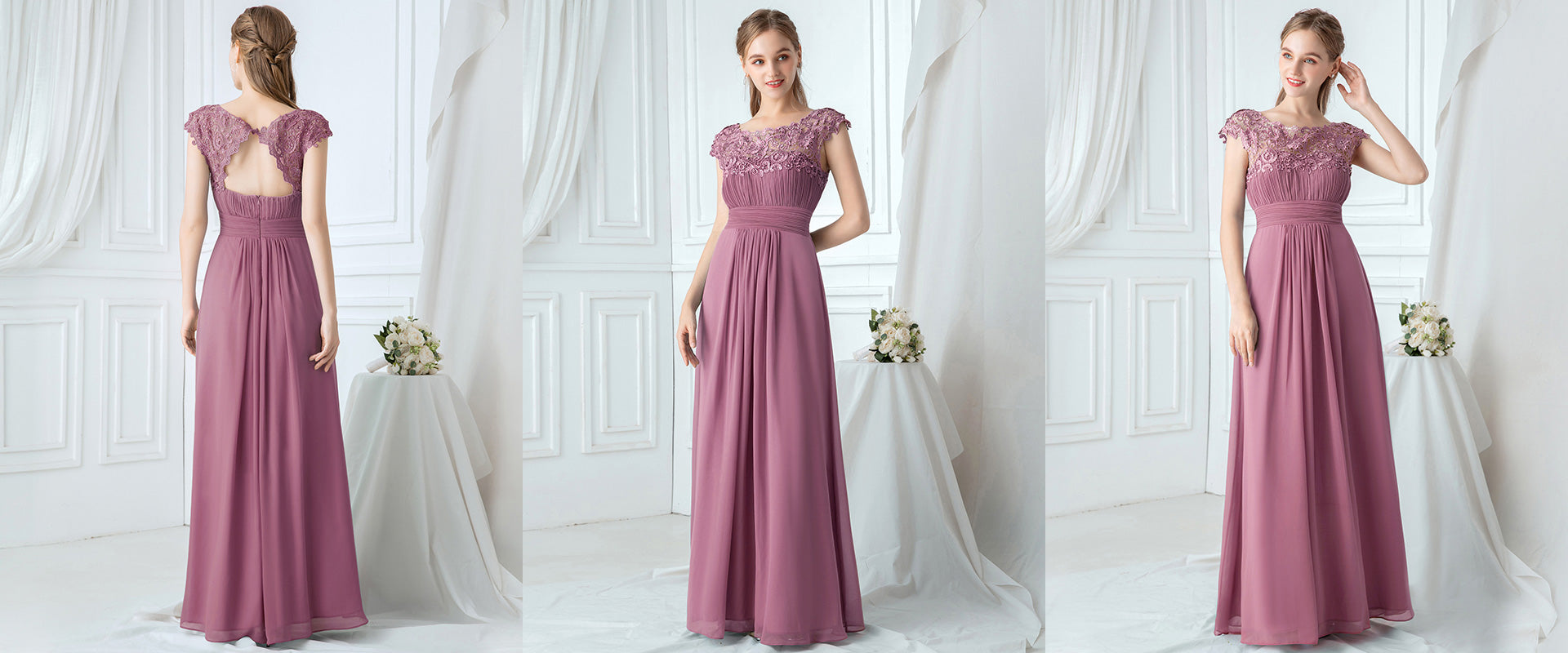 Metallic dresses in glitter or sequin add an electric vibe to the ceremony, thereby bringing in the drama. You can keep the sleeves or even go without it. The glamour sequin bridesmaids' dresses bring in is inevitable.
Budget-Friendly Bridesmaids Dresses by Length
Length should be taken into consideration while searching for an affordable bridesmaids' dress. Shorter the dress the less the expense and more flowy the outfit the higher the price, but you needn't worry about that since with e4wholesale.com, you can select from plenty of reasonable long gowns.
Remember one thing, though, that long gowns usually appear as being formal, whereas the short ones are often chosen for casual events. Long dresses are traditional and look elegant as well.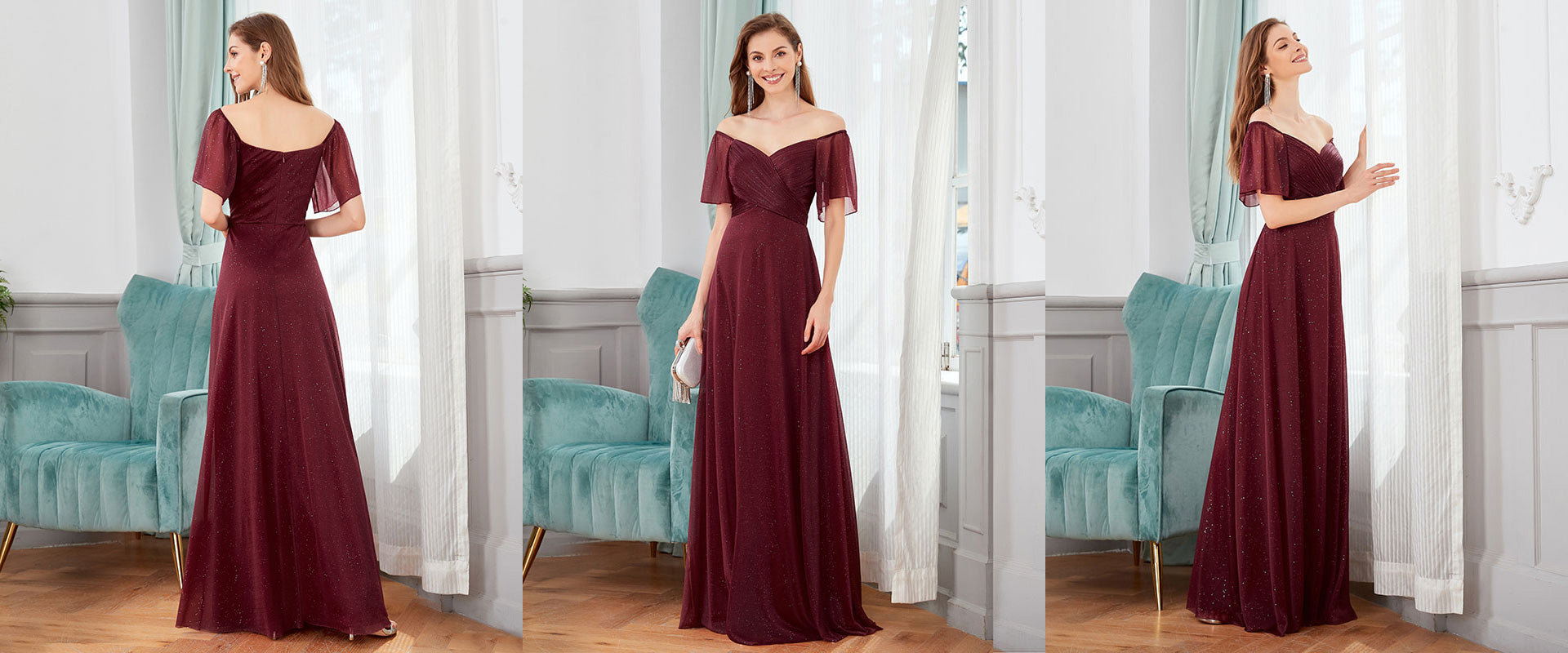 One thing for sure is that the short dresses are extra affordable and trendy. You can have numerous variations in hemlines like the flare fit or ones with high-low hemlines, flowy or bodycon bridesmaid dresses.
Budget-Friendly Bridesmaids Dresses by Fabric
Fabric decides which cut, style or drape would look good on a dress. So choose your fabric wisely. Most importantly, be sure to select the fabric as per the weather in your location.
Bridesmaids dresses crafted out of chiffon are the most sought-after ones since they are breezy and look rich owing to their flowy texture.
Lace bridesmaids dresses are always fun as they give an elegant yet sexy appeal to the wearer. It looks playful yet romantic. Lace looks best in pastel shades but deeper hues works well too. The floral texture on lace brings in the charm of a summery wedding.
 One word of caution dear bride-to-be, please don't overthink! Just go with the flow and may the ideal dress in the right color, length, fabric and price pop up in front of you as soon as you open the magical world of dresses on e4wholesale. com.